Featured Testimonial About Creighton University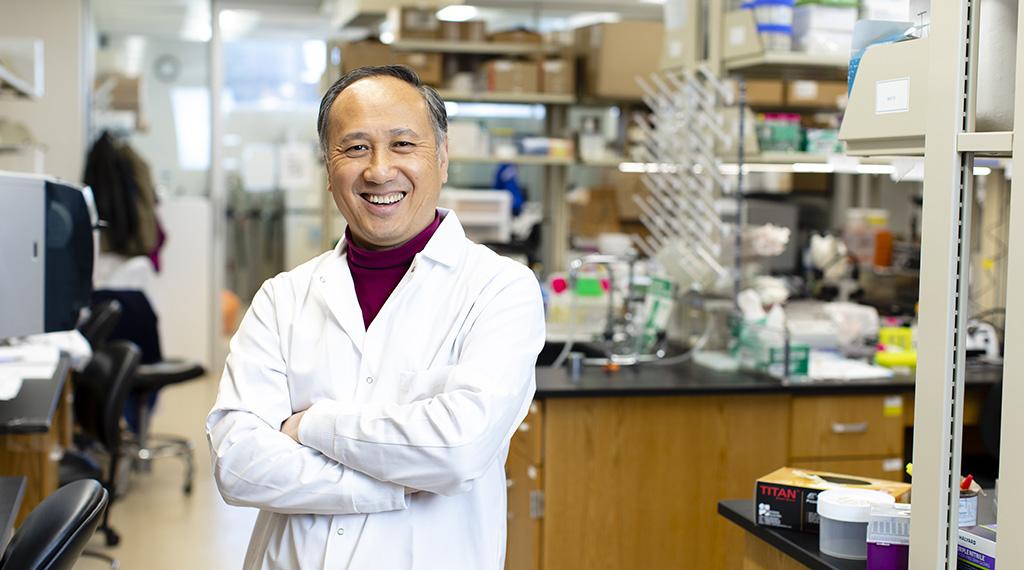 From faculty development to student support to a new curriculum that will revolutionize the way our professionals learn, Creighton's School of Medicine is ready to lead in a new era of medical education.

Robert "Bo" Dunlay, MD'81
School of Medicine dean
Support for strategic hires is one of the most effective ways to further elevate Creighton's already impressive School of Medicine. Talented, connected, and visionary faculty members improve how we train our students, fill knowledge gaps, and position us as leaders on a national scale. A prominent example is Jian Zuo, PhD.
Dr. Zuo joined the School of Medicine faculty in 2018 as the new chair of the Department of Biomedical Sciences, bringing with him 20 years of experience in neuroscience and hearing disorders at St. Jude Children's Research Hospital. During his tenure at St. Jude's, Dr. Zuo was named the first recipient of The Belluccci Prize for Hearing Research, and he credits the late Richard J. Bellucci, MD'42, for helping to bring him to Creighton. The Bellucci DePaoli Family Foundation continues to fund Dr. Zuo's research.
Under Dr. Zuo's leadership, the Department of Biomedical Sciences has hired six new faculty members and is in the process of rebuilding infrastructure and rejuvenating lab spaces. These advancements are in service to Dr. Zuo's priority of strengthening our research portfolio through the development of three national centers of expertise: Cancer, Neuroscience, and Translational Hearing. He sees an opportunity to establish Creighton as the nation's only academic medical center home to a hearing center with a translational focus. Collaborators at Boys Town National Research Institute will bolster Dr. Zuo's efforts.
The type of breakthrough research led by Dr. Zuo and other basic science faculty members has strong potential to transform lives — but it requires considerable investment. Philanthropic support is critical in recruiting the most enterprising faculty members, supporting their work to establish centers of expertise, and creating new knowledge to share with tomorrow's scientists. Whether through endowed chairs or funding for experimental research, private support for School of Medicine faculty is essential to strengthening Creighton's preeminence in priority areas. Every gift is a step toward better treatment for our patients and helps attract top physician-teachers.