Featured Testimonial About Creighton University
We are thrilled that my mother's legacy will continue through an endowed scholarship. Even though she's no longer with us, she will continue to be a part of the Creighton community.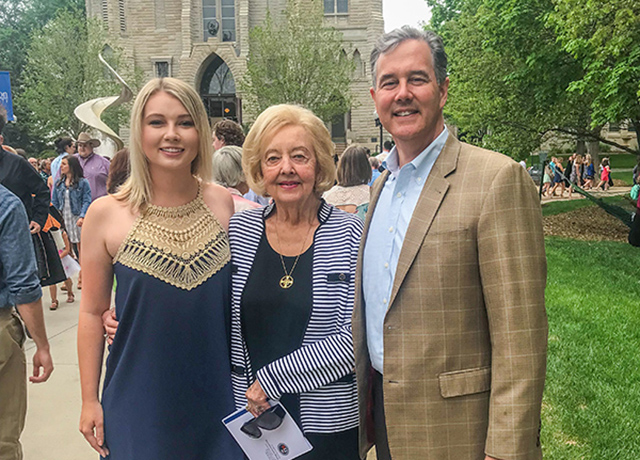 Her family's Creighton history dates all the way back to when the University had a football team.
The story begins with her father, Willis "Mike" Herbert, BS'27, MD'29, a student-athlete from Minnesota who "ended his three-year career in a whirl of glory," reads the Bluejay yearbook published his senior year.
Then Adelaide "Corky" Herbert Erftmier, BSPHA'60, continued the Creighton tradition.
As did her two sons — Don Erftmier Jr., BSBA'87, and Mike Erftmier, BSBA'90.
As did Don's children Elizabeth "Lizzie" Erftmier, BA'18, and Donald Erftmier, III, BSBA'19.
"Everyone throughout the generations had such a great experience," says Don Jr., an attorney in Omaha. "Starting with my grandfather in the '20s and my mother in the '50s, my wife and I in the '80s and now Lizzie and Donald in the 2010s. Everybody's experience and the quality of education we received was wonderful. When you have an experience like that, you become an ambassador for the place that gave you that experience."
Shortly before she died in 2018, Adelaide — or "Corky," as her friends knew her — was able to see her granddaughter graduate from Creighton, making them a four-generation Creighton family.
It meant a lot to Adelaide that Lizzie went to Creighton. Four years earlier, in fact, when Lizzie was a senior in high school, her grandmother ran into then-Creighton President Father Timothy R. Lannon, SJ, BS'73, at a Creighton dinner.
"My grandmother shared with him that I wanted to study journalism and was considering going to Loyola Marymount," Lizzie says. "She told him how much she enjoyed her time at Creighton and hoped that I would end up there. Just days later, I received a personal letter from Fr. Lannon sharing his hope that I would continue my education at Creighton in their journalism department."
And so the tradition continued.
When Corky entered Creighton pharmacy school in the '50s, she was one of just three women in the program. One of her classmates was Rose Wilson, BSPHA'58.
Rose and Corky were lifelong friends. In the last few years of Corky's life, the two met regularly to catch up over long lunches. In fact, they had lunch just a week before she passed away.
"She was wonderful," Rose says of her friend. "She was so witty, so nice to everybody. I can't say enough good things about her. We were friends for 65 years, and I'm still hoping that one day I can be like her."
Her friends and family knew that Creighton meant the world to Corky.
"Mom was very proud of her Creighton pharmacy degree," says Don Jr. "She kept her license active and attended continuing education classes her entire life.
"She was very proud of what she and her family accomplished at Creighton. And she wanted to help others have that same experience."
In her estate plan, Corky made a significant gift to Creighton to endow a scholarship for students in the School of Pharmacy and Health Professions.
"We are thrilled that her legacy will continue through this scholarship," Don Jr. says. "Even though she's no longer with us, she will continue to be a part of the Creighton community."