Featured Testimonial About Creighton University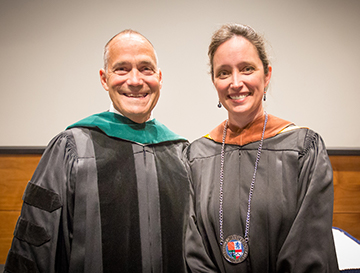 By Rosanne Bachman
The inaugural holder of Creighton's newest endowed chair is an artist whose work has been exhibited throughout the world and can be found in the private collections of primatologist Jane Goodall and Supreme Court Justice Clarence Thomas.
Rachel Mindrup, MFA, assistant professor of drawing and painting, was installed as the Richard L. Deming, MD, Endowed Chair of Medical Humanities in a ceremony Wednesday, June 2. Creighton President the Rev. Daniel S. Hendrickson, SJ, PhD, presented Mindrup with the ceremonial medallion for Creighton's 43rd endowed chair. The community can see the event via livestream.
"An endowed chair is a tremendous gift to a university," Fr. Hendrickson said. "This chair reflects the experience and passion of its benefactor, who understands the value of connecting with patients on a meaningful level."
Embedding an artist with medical faculty reflects the vision of School of Medicine alumnus Richard Deming, MD'80, an oncologist and medical director of the MercyOne Cancer Center in Des Moines, Iowa. Deming believes that to engage patients and build trust, physicians need a more comprehensive understanding of what it means to be human.
"As I've had the opportunity to interact with thousands of cancer patients, I've learned the therapeutic value of being present with them," Deming said. "Genuine caring and authentic compassion have tremendous healing power. And much of that power comes from knowing the value of the humanities. What I gained through my Creighton classes in spirituality, theology, philosophy, psychology and literature has had a huge influence on my success as a doctor."
Creighton's commitment to the liberal arts is the foundation of each of its nine schools and colleges. In focusing on disciplines outside of medicine, the Department of Medical Humanities will emphasize areas of healing that go beyond the physiological.
"In the School of Medicine, we don't just want to graduate skilled technicians. We want a physician who's also going to be thoughtful and care for each patient as an individual person," Mindrup said. "Medical students will be drawing and observing, and asking themselves if they trust their eyes, or if they are always going to go with only what's on the patient's chart."
Mindrup's own focus is on portraiture in contemporary art as it relates to medicine. A self-described "storyteller through painting, drawing and printmaking," Mindrup received her BFA from the University of Nebraska at Kearney and continued her studies at the Art Academy of Los Angeles. She later earned an MFA from the Art Institute of Boston at Lesley University. Her client list includes Kiewit Corporation, Boys Town, Boys Town National Research Hospital and the Kansas City University of Medicine and Biosciences.