Featured Testimonial About Creighton University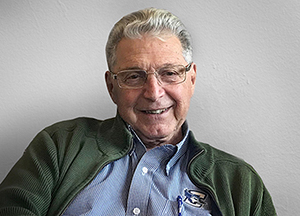 By Rosanne Bachman
Dr. James Laumond, a 1964 alumnus, has endowed a chair in Creighton's School of Medicine to help ensure that future physicians treat not just the medical condition, but the whole person.
The inaugural holder of the Dr. James P. Laumond Endowed Chair in Medicine is Dr. David B. Wisinger, professor of medicine and assistant dean of faculty affairs at the Creighton University Health Sciences – Phoenix Campus. Dr. Wisinger is widely recognized for bringing excellence and innovation to Arizona's health care sector, through patient care, education, research and community service.
Wisinger was installed as the holder of Creighton's 44th endowed chair and first on the Phoenix campus on Wednesday, June 9.
"An endowed chair is a tremendous gift to a university, and one that benefits students in perpetuity," said Creighton president, the Rev. Daniel S. Hendrickson, S.J., Ph.D. "This chair is a fitting reflection of the values and patient-focused practice of Dr. Laumond."
Dr. Laumond said he hopes his gift will promote humanism in Creighton-educated physicians, preparing them to connect with patients on a meaningful level. He knows that the humanistic bond between doctor and patient lies at the heart of good medicine.
"Making a patient feel comfortable and loved, letting them know you're on their side, and they're going to get the best possible care from you — that's humanism in medicine," Laumond said.
Laumond Chair holder Dr. Wisinger said that Dr. Laumond has, in both his professional and personal life, demonstrated the importance of meeting the needs of people on a deeper level.
"I hope to say that I have done and will continue to do the same," Dr. Wisinger said. "At the core of humans are some primal needs … the need to be secure, the need to give and receive love, and the desire to know they matter. To fulfill these needs is our essential role in life."
About Dr. Laumond and Dr. Wisinger
Dr. Laumond grew up in a low-income neighborhood in San Francisco and was the first in his family to go to college. Creighton was the first medical school to accept the University of California, Berkeley, business student. After medical school, he settled in California's Bay Area and started investing in real estate and founding medical facilities.
Dr. Wisinger received his Bachelor of Science degree from the Florida Institute of Technology and a medical degree from the University of South Florida College of Medicine. He completed his residency in internal medicine at Valleywise Health, formerly Maricopa Medical Center, in Phoenix, and has been treating patients for more than 35 years.