Featured Testimonial About Creighton University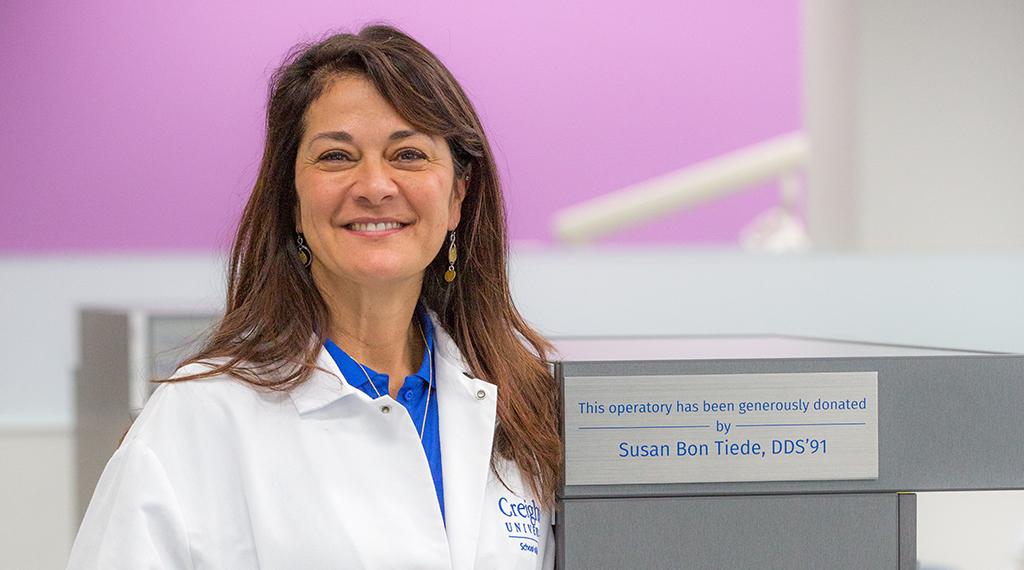 There's something that shakes you to your core about the Jesuit tradition. The giving and acceptance and service, it changed my life.

Most people have no idea how serious dental decay is in America, says Sue Bon Tiede, DDS'91. Particularly decay among very young children.
Tiede is well-acquainted with the problem by now, from her past work as a Public Health Service dentist on the Pine Ridge and Blackfeet Indian reservations to her current practice as a pediatric dentist in Missoula, Montana (a non-fluoridated community).
"I've pulled teeth on 10-month-olds," Tiede says. "You wouldn't even think that's possible. In most cases, the child has a bottle of juice they're drinking all day long. Because of that constant exposure to sugar, their teeth are basically decaying as they're coming in. It's heartbreaking."
Convincing parents to cut the sugar and use fluoride can be an uphill battle, says Tiede. And the scope of the problem can, at times, feel overwhelming.
Yet she loves her job. She loves treating children. She loves coming in at the start of a person's life, when, ideally, she can help shape health habits for decades to come, stopping the spread of decay one tooth at a time.
Tiede likes being on the ground floor of things generally, offering her time and talent before even a hint of rot can take root.
She does this through many forms of service, some at Creighton. For six years, Tiede has served on the School of Dentistry's Alumni Advisory Board. This past fall, she took over as chair.
"I sit on several boards, but this one is my favorite," she says. "Because every decision we make as a board is always looking at what we can do to make it better for the students and better for the faculty."
There's no abstraction to it, she says. The board sees tangible results. A clear connection between effort and effect. A community of Creighton stakeholders helping the next generation flourish.
Being on the board, Tiede says, has given her an appreciation of how much alumni do for the students. When she was a student herself, she had no idea.
"I was a typical dental student at Creighton, meaning on any given day I loved it and hated it," Tiede says with a laugh. "But I graduated with a very strong connection and a tremendous appreciation for the great education I got here."
She says she's always been committed to service, but that her commitment was nurtured at Creighton.
"There's something that shakes you to your core about the Jesuit tradition. The giving and acceptance and service, it changed my life."
After dental school, Tiede joined the Navy, where she served for several years before joining the Public Health Service and working as a dentist on the reservations. Shortly after training to become a pediatric dentist, she moved to Missoula to open her own practice, which has been going strong for 15 years now.
Her reach extends beyond her community. She also serves on the board of the American Orthodontic Society and as one of the American Dental Association's national spokespeople for fluoride use. For years she's lobbied to Congress on behalf of pediatric dental patients.
Tiede doesn't have a lot of spare time, yet she's still finding the time for Creighton. In addition to leading the Alumni Advisory Board, she's now working at the dental school. For two days a month, Tiede works in the lab and the pediatric clinic.
"I've talked about doing this for years, and I'm so grateful that the school has given me the chance," she says. "It's crazy to be coming full circle and coming back to a place that is so special to me."