Featured Testimonial About Creighton University
I am forever grateful for the experiences and opportunities Creighton has given me.

George Noesen
School of Dentistry student
When D4 student George Noesen graduates in the spring, a decade will exist between his and Luke McMahon's, DDS'11, Doctor of Dental Surgery degrees. For McMahon, a board-certified oral and maxillofacial surgeon in Minnesota, that time equates to experience gained and knowledge acquired, all of which he has used to provide guidance and support to Noesen during his Creighton journey.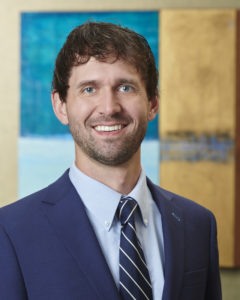 How did the two of you meet?
M: I was ahead of George in school, but he and I attended the same undergraduate university in Minnesota (St. John's University). When he was in the process of applying to dental schools, he reached out to hear about my Creighton experience. I shared with him that I felt Creighton provided me with the foundation for a career in dentistry, including a strong didactic program, varied clinical experiences, and that it instilled in me the importance of caring for individuals in the community.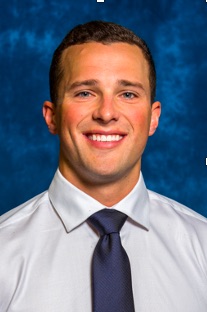 N: After obtaining my master's degree in human anatomy from Des Moines University School of Osteopathic Medicine and keeping in close contact with Dr. Norton, I started seeking out a Creighton alum for more information about the School of Dentistry. When I found Dr. McMahon on the web, I knew right away he was 'my guy' – same undergrad, Creighton School of Dentistry, and certified in oral and maxillofacial surgery. This was the path I saw for myself.
What happened next?
N: I reached out to Dr. McMahon and he shared details about his Creighton experience and his professional journey. Cura personalis, care for the individual, was a big influence for the both of us. I chose Creighton School of Dentistry because the values of the University mirrored those of my undergraduate experience.
It was during my first year at Creighton in 2017 that I got back in contact with Dr. McMahon. I was home in Minnesota over the Thanksgiving holiday, so I reached out to meet in person. I visited him at his practice, and it all went from there naturally. A total stranger became my mentor, then friend, and maybe someday I'll have the privilege to call him a colleague.
What motivated you to offer job shadowing?
M: I've had the good fortune of having positive influences to guide me on my educational and professional journeys.
Dr. Jody O'Brien, a 1996 graduate of the School of Dentistry, mentored my wife, Holly (McMahon, DDS'11) and me, during our undergraduate years. She encouraged each of us to apply to Creighton, as she had a great educational experience. Seeing how Dr. Jody cared for patients indicated to us that Creighton was a dental school that would teach us how to care for patients, and also provide an in-depth experience in many aspects of dentistry. The variety of clinical experiences at Creighton was a great preparation for our careers.
It is important for me to share these same opportunities and guidance for others who are interested in self-improvement, life-long learning, or expanding their knowledge.
What has the shadowing experience been like?
N: The Creighton School of Dentistry family is not just the people within the walls of the school. When I started shadowing Dr. McMahon, I felt an immediate connection. One of the first things he did when we met was he gave me his cell phone number. He told me to stay in contact and that his door was always open. While I was at school, he'd keep his eye on the schedule and when there was a test or something coming up, he'd reach out to say 'good luck.' Creighton really pushes you to strive for excellence, and this is a really challenging path. You always have to find a way to become better and cannot settle for average. Dr. McMahon's motivation and his encouragement, and his constant passion, helped push me through those tough times.
M: I'm impressed by George's constant excitement for learning. Prior to getting to know George, he had earned his master's degree in anatomy, and he worked in the anesthesia department at Mayo Clinic in Rochester, Minnesota. Mentoring provides a view of the strong future of the dental profession. I enjoy the challenge of the good questions that students ask.
Did you always want to be a dentist?
M: After taking 10th grade Biology, I knew that I wanted to do something in the health sciences. My neighbor at the time was a dental student and encouraged me to look into dentistry. Since high school, I knew that I wanted to pursue a career in dentistry, but it wasn't until dental school that I became interested in oral and maxillofacial surgery.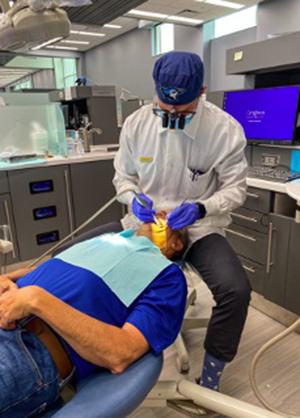 N: My father is a dentist and graduated from the University of Minnesota in 1985. I was initially pre-med heading into undergrad, but watching the relationships my father built with his patients took it to another level for me. His ability to help people and to connect with them is truly amazing. I've watched Dr. McMahon engage with his patients, seen his calm demeanor, his control, his care, and apply his expertise under the philosophy of his practice to "do what is best for the patients." I also appreciate the relationships I have developed with my classmates, instructors and patients during my journey. I am forever grateful for the experiences and opportunities Creighton has given me.
I have always dreamed about helping others through the dental profession. With all of the valuable characteristics I have taken from each person in this crazy ride through dental school, I hope to create a great toolbox that will help influence others after my journey is complete at Creighton.
What's next for you?
N: After graduation, I'm hoping to gain acceptance into an Oral/Maxillofacial Surgery residency program. To know that I am part of the Creighton dental community is truly special to me and I hope to be a great clinician like Dr. McMahon someday and all the clinicians who have taught me at Creighton. I've actually had the opportunity to do some operative dentistry on my dad. That was a surreal moment. He has been my role model for my whole life and to have his trust with a handpiece in my hand …there were no words to describe that day.