Featured Testimonial About Creighton University
Guided by their deep commitment to family and faith, Ron, BSBA'64, JD'70, and Jan Eich have shared their gifts with Creighton for more than three decades. Their most recent gift, the Eich Family Legacy Endowed Scholarship, will offer life-changing experiences to students in need.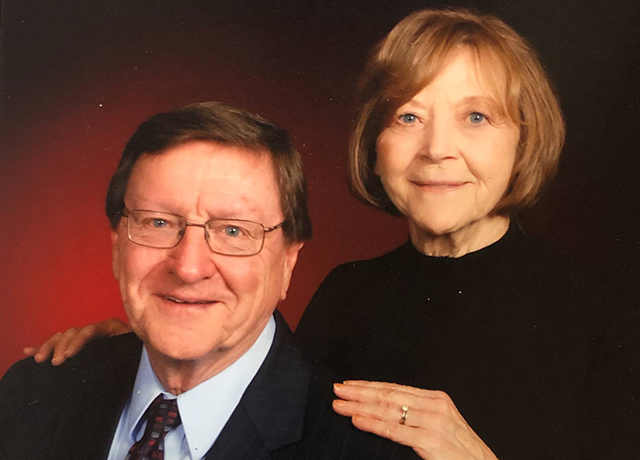 "Education is highly valued in our family," daughter Jill Eich Timboe, BA'91, said. "I would like beneficiaries of the scholarship to know that I never doubted my parents' love and support."
The Eich family connection to Creighton began in 1960 when Ron moved from his family farm in rural Iowa and enrolled in the College of Business. Jan, who is also from Carroll, Iowa, enrolled at and graduated from St. Catherine's Hospital School of Nursing. While in the program, Jan completed a number of courses on Creighton's campus.
"I've always had a soft spot for Creighton," Ron said. "I decided while I was facing the challenges of law school, that even if I didn't make it as a lawyer, I knew Creighton had taught me a work ethic and discipline that I could apply in any career."
Ron graduated from the School of Law in 1970. Jan had a successful nursing career at Bergan Mercy in Omaha. The Eichs made their home in Carroll, Iowa, where Ron continues to practice. Together, they raised four Creighton graduates--Patrick, Michele, Jill, Robert--and are actively involved in the lives of their 14 grandchildren, two of whom are current students at Creighton.
"My grandparents' love of the University, their successful educational and professional careers, and their constant support of my educational pursuits and achievements are several reasons why I am at Creighton," granddaughter Ellie Hall, a College of Arts and Sciences senior from Milwaukee, Wisconsin, said.
Three generations of Eichs share a strong bond. Hall says that she has always been close with her cousin, Arts and Sciences sophomore Kate Timboe.
"I enjoy seeing her around campus and hanging out together. I am hopeful that many more Eich grandchildren will attend Creighton!"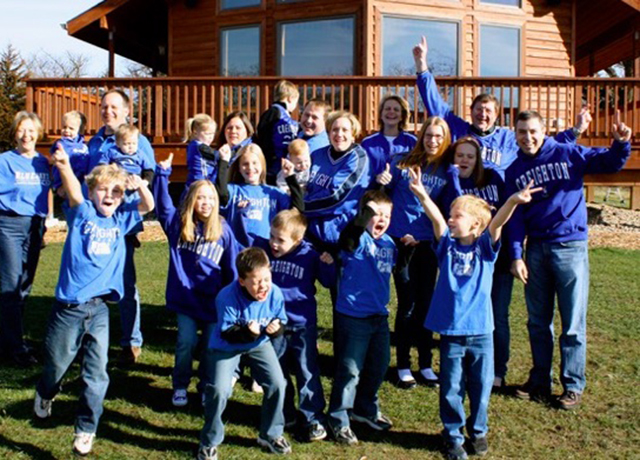 Together the Eichs have created a number of family traditions, including Candlelight Mass at St. John's Church and attending Bluejay sporting events.
Robert Eich, BSBA'95, the youngest of the Eich children, recalls being on campus numerous times for events while he was growing up.
"Now, our season basketball tickets seat us next to my parents. Rarely (before Covid) was there a game when there weren't generations of Eich family sitting together, cheering on the Bluejays."
For Patrick Eich, BA'88, their parents' wisdom and the Jesuit mission were fundamental to the college experiences of the Eich children. Younger sister, Jill Eich Timboe, says that critical thinking and service to others are values that her parents have always modeled and encouraged.
"The family legacy, to me, is a combination of loving and supportive parents and Jesuit education," Eich Timboe said. "The education of their children, whatever path they took, was always one of my parents' highest priorities."