Featured Testimonial About Creighton University
My experiences at Creighton exceeded my expectations. I've always had a drive, but I can say that at Creighton it intensified.
He was never afraid; his dream was to have a meaningful career in public service. So, at age 18, Nick Buckley, BSEMS'17, began volunteering at his local fire department in North Sioux City, South Dakota.
"I loved the work in the firehouse and what I learned along the way," recalls Buckley. "I can still remember what it was like to be new, not really comfortable. But that's why I was there, to learn and gain experience."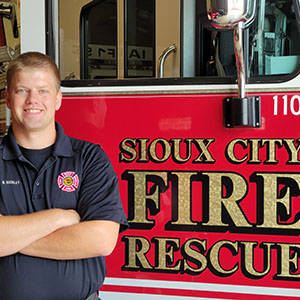 Buckley would go on to find in Creighton's Emergency Medical Services Program what he was searching for – to pursue his calling in EMS. He graduated in 2017.
"My experiences at Creighton exceeded my expectations," he said. "I've always had a drive, but I can say that at Creighton it intensified."
Since 1974, Creighton's EMS program has provided cutting-edge training while developing compassionate and empathetic health care providers. Today, Creighton is among a few dozen programs in the country offering a Bachelor of Science degree in EMS, and one of even fewer universities with a Master of Science degree in EMS. Thanks to the generosity of alumni and friends, the EMS program continues to build an international reputation for excellence.
Gifts to the EMS-specific scholarship fund help provide a high-quality education that empowers current students to become skilled, compassionate professionals who value education as a lifelong process.
Buckley, who was a scholarship recipient, says he is still grateful for the donor support he received during his time at Creighton.
"Every little bit helped while I was there, you know for medical books and supplies, it adds up," said Buckley. "But it wasn't just for me, it's more than that. Then and now, donor support is assurance that we are going to continue to develop fantastic EMS paramedics."
For five years, Buckley has been back with the North Sioux City Fire Department, fulfilling his dream. He is on the board of directors and will graduate in 2023 with his master's in public health.
Buckley says his career in public service is all about the connections that he makes with his patients and about being their advocate.
"My goal is to ensure we have skilled medical providers available in rural areas, to serve the underserved. It's great to be able to promote and guide my department in this way."
The Emergency Medical Services Program is one of dozens of causes supported by the University community during each of Creighton's annual Giving Days. Since 2018, 53 Giving Day donors have raised more than $8,000 to support EMS students.
This year, on April 6, more than 2,700 donors gave a total of more than $927,000 to services and organizations that define the Creighton experience.