Featured Testimonial About Creighton University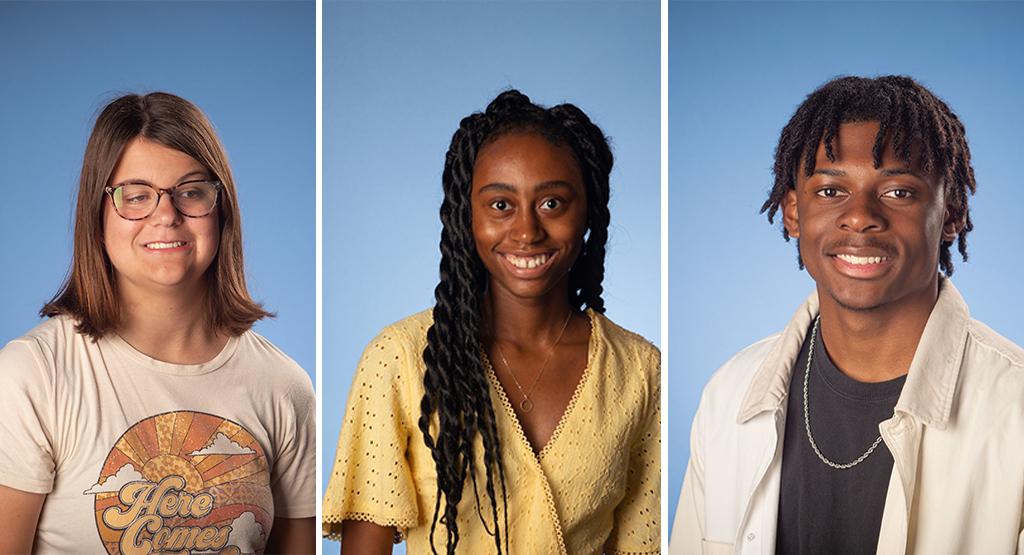 You're not just receiving a scholarship through Union Pacific; you're joining a community. It's more than I could have imagined.
The Union Pacific Diversity Scholars Program is a prestigious award offered through Union Pacific Railroad, a Fortune 500 company headquartered in the heart of downtown Omaha with roughly 32,000 employees across the globe. The program engages students who are best able to articulate and promote workplace leadership in diversity and inclusion for a more just world.
The program — formed in 2020 by a partnership between Union Pacific and the University — awards a $25,000-per-year scholarship to incoming freshmen for their full four years at Creighton. Each year, at least eight new scholars are added to the growing community. Over their four years, each student will receive support, training and mentorship in diversity and inclusions approaches to their future careers. Learn more about the Union Pacific Diversity Scholars Program here.
* * *
By Micah Mertes
Halfway through her first semester, freshman Camille O'Neill is more convinced than ever that Creighton is, for her, a perfectly sized university.
She doesn't mean metaphorically. She's not talking about the population of the student body nor the number of academic programs. Camille means the actual physical size and shape of Creighton's campus itself, which has proven to be an essential factor in her everyday experience.
"It takes me twice as long to walk places," says Camille, who has two disabilities — impaired vision and cerebral palsy. "So I knew I needed a campus, and a community, that could accommodate me. I found that in Creighton. It already feels like home. My friends already feel like lifelong friends."
Camille, a Heider College of Business student from Gretna, has likewise found a smaller life-changing community within the community of Creighton — the Union Pacific Diversity Scholars Program. This academic year, she joined seven other students in the new class of scholars.
To spotlight the growing community of Union Pacific Diversity Scholars, we spoke with Camille and a few of her fellow scholars about the ways this program is helping make Creighton accessible to all.
* * *
What has joining the Union Pacific Diversity Scholars Program meant to you as a student?
Camille: I'm happy and grateful for the monetary value of the scholarship. But it's more than that. The program provides so many benefits. It's going to give me networking and internship opportunities. It's going to connect me with a Union Pacific mentor. It's going to expand my knowledge and help me gain real-world experience and build the relationships that will define my career.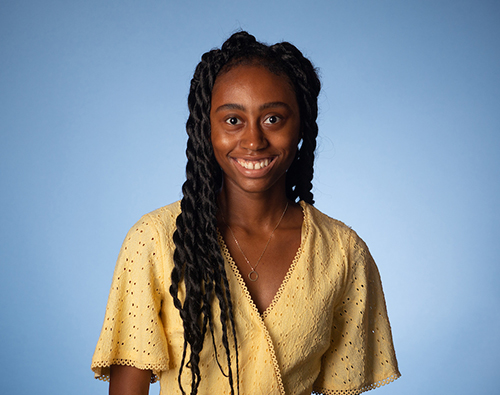 Lauren Burris, a second-year UP scholar from Omaha: Beyond the financial support, Union Pacific offers so much more than I even realized. The mentor programs, the real-life experiences, the connections and resources they provide. And the diversity aspect is, of course important to me. Given how big and busy Union Pacific is, I can't believe how much time they are able dedicate to being involved in each of the scholars' lives. It really shows they care. It shows that you're not just receiving a scholarship through them; you're joining a community. It's more than I could have imagined.
Nathan Tshishimbi, a first-year UP scholar from California: This scholarship has lifted the weight off my family's shoulders. And the program has also been a gateway for me to getting to know some great people and starting to put down roots in an unfamiliar place. I think that with this program, Union Pacific and Creighton have built a model for what other companies can do to help increase diversity. Omaha is a growing city, and sometimes it takes some work to truly see the harvest that you're seeding.
Why did you choose your major?
Camille (Business, Intelligence and Analytics): I've loved math ever since I can remember. I took an AP statistics class in high school and loved it. As I was looking at careers, I considered something I'm really passionate about: sports. Then I thought, OK, maybe I can combine the two: numbers and sports. That's my plan, to eventually pursue a master's degree in sports analytics. It makes a lot of sense when I look back on my childhood. Growing up, whenever I was watching a game with my dad, I'd always be looking up all the stats.
Lauren (psychology): I have always enjoyed working with children, and for the longest time I thought I was going to be a teacher. But then I got interested in school psychology. Right now, I'm trying to decide between that and organizational psychology, the business side of it. That's one area where Union Pacific is giving me some real-world experience. I'm getting to see how the company operates and how it structures itself. That experience is helping me figure out which path I want to take.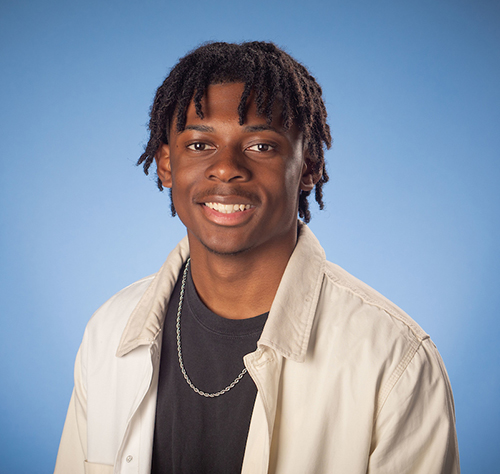 Nathan (computer science): Growing up, I was always inclined toward computers. Not software but the actual hardware. My mom's friends were interested in technology, and they got me interested, too. They started giving me computer parts, and it eventually developed into me building my own PC. Computer science is so open-ended and such a growing field, I feel like I could go anywhere with this degree.
What do you love about Creighton?
Camille: I actually knew Creighton pretty well before I became a student here. I was born and raised Catholic, and I've been going to St. John's as a parishioner since eighth grade. I already had a community here, and I felt like I could expand that community to the whole campus. I'm half a semester in, and I already feel like I've accomplished that. I'm so excited to continue my life here over the next several years.
Nathan: Moving to Omaha from California was kind of a leap of faith. But coming to Creighton knowing that I had the Union Pacific Scholars program, knowing that I had a group of people supporting me, it really helped me put both my feet in the water. Feeling the support of a community of people is truly a blessing.
Lauren: Everyone here is so nice! (Laughs.) I just couldn't believe it. The first week I got here, I was like, "Is everyone actually this nice or is it a first-week kind of thing?" That's my favorite part about Creighton. No matter what type of day you're having, if you're walking across campus, you're going to see someone smiling at you. That's just who this community is.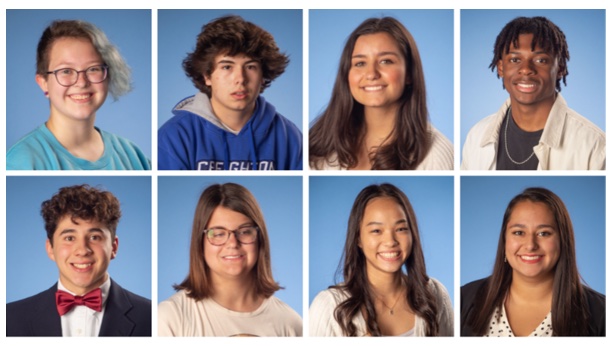 This year's new class of UP Diversity Scholars includes:
Caitlyn Hern (Wildwood, Missouri)
Angelo Apodaca (Gretna, Nebraska)
Ashlyn Viereck (Centennial, Colorado)
Nathan Tshishimbi (San Marcos, California)
Christopher Angel (Omaha)
Camille O'Neill (Gretna)
Aerin Dias (Honolulu, Hawaii)
Serena Martinez (Sutherland, Nebraska)