Featured Testimonial About Creighton University
Growing up in Omaha, I knew about Creighton, but it always felt out of reach for my family. Then I received a scholarship.
Mayela Hernandez
Creighton student
Make a gift to scholarships today!
* * *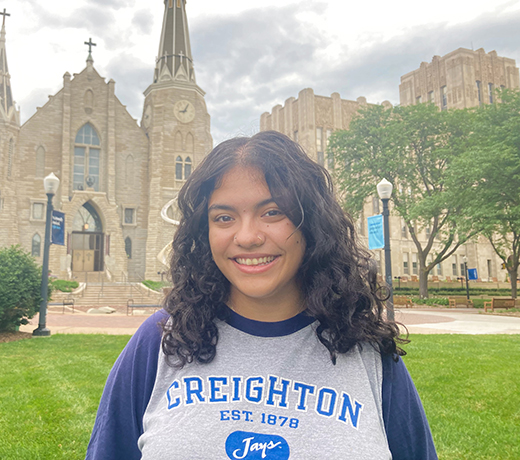 By Mayela Hernandez, Class of 2023
I'm a senior at Creighton and the first person in my family to go to college.
Ever since my sister and I were little girls, our parents stressed the importance of getting a good education. I remember when our dad dropped us off at school, every time he would tell us to be sure to take notes and ask questions. If we worked hard, someday we could get a scholarship and go to college. We could have financial security and a job we love.
Growing up in Omaha, I knew about Creighton, but it always felt out of reach for my family. Then I received a scholarship. I'll never forget the day we learned I'd be able to go to Creighton — Feb. 14, 2019. (No Valentine's Day will ever top that one.) That moment shifted my idea of what I thought my life could be.
You make moments like this possible for hundreds of families like my own when you support scholarships, and I hope you'll continue to do so this year.
Thanks to donors like you, I've thrived at Creighton. I've thrived in the classroom, where I've truly been able to connect with my professors and everything I'm learning. I've thrived outside it through the many opportunities Creighton offers to serve the community.
One of my best experiences at Creighton was the service and justice trip I took to Montgomery, Alabama, where I helped provide services and resources for children and elderly people in need.
Since as far back as middle school, I've loved to give my time to others. I love going into a community and being as helpful as I possibly a can. One of the wonderful things about Creighton is the many opportunities I've had to serve. This isn't just a great education; it's a way to find your path to working for a better world.
When you support scholarships, you're also supporting every person that students like me will go on to one day help.
When I'm at Creighton, I'm at home. And none of this would have been possible without my scholarship. Donors like you have completely changed the trajectory of my life, the trajectory of my whole family's life. You've given me and so many others who couldn't be at Creighton without scholarships a confidence we never knew we could have. You've welcomed us to the Creighton family, where everyone knows they can depend on each other.
Your faith and support make my Creighton education possible. I hope you will consider supporting scholarships at Creighton. No matter the amount, your gift will transform the lives of Creighton students for years to come.
* * *