Featured Testimonial About Creighton University
I knew at that moment I represented not just myself. I represented Creighton. I represented my grandparents, who were immigrants. I represented first-generation students and students of color.
Leilani Hung
Class of 2024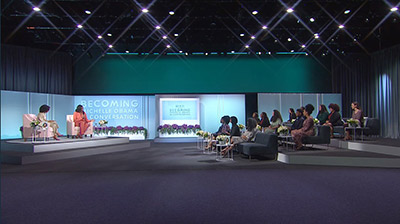 By Micah Mertes
The real pinch me moment for Creighton sophomore Leilani Hung, she says, was when Michelle Obama walked up to her, gave her a hug and a kiss on the cheek and told her:
"I know what you're feeling. I know you have doubts. But you are exceptional. Don't ever give up."
This once-in-a-lifetime moment took place this November in Washington, D.C., at an event in which 14 college students from across the country got to speak with the former First Lady.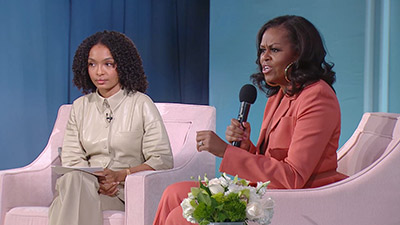 The event — moderated by black-ish star Yara Shahidi, livestreamed virtually and set to air on BET later this year — offered a wide-ranging conversation about identity, race, belonging, community, social media, imposter syndrome and the pride and heartache that come with being a first-generation college student.
"I'm thrilled to hear from you," Obama told the students. "What's on your minds? What's causing you joy? What's causing you stress?"
Hung, a Los Angeles native who identifies as Afro-Latina, asked several questions of Obama.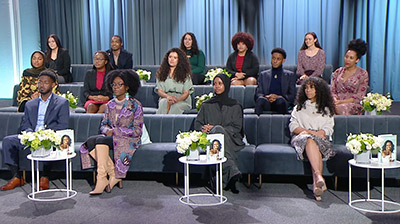 She asked how she could give back to her community when she's more than 1,000 miles from home. She asked for advice on being a first-generation student and a woman of color attending a school in a predominantly white city and state.
Hung told Obama about Creighton, about how even despite her struggles, the University remains her dream school.
Hung was one of the 14 students to attend this event because Creighton is a participating institution with Penguin Random House, the publisher of Obama's 2018 bestseller Becoming.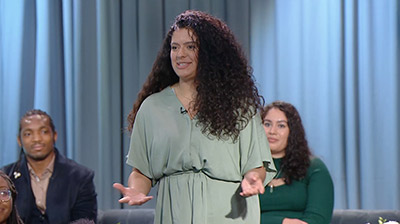 Finding and funding a student to send to D.C. was a combined effort of Creighton's Division of Equity, Diversity and Inclusion; TRiO Student Support Services; the Creighton Intercultural Center; the Lieben Center for Women and the Kingfisher Institute for the Liberal Arts and Professions.
"We wanted to show the University's commitment to first-generation students and students from other historically underrepresented groups in higher education," says Charise Alexander Adams, program planner for the Kingfisher Institute.
"While we received many excellent applications, Leilani's enthusiasm for Michelle Obama's story, for Creighton and for the power of education was unmatched among them. Leilani is passionate about helping all students feel a sense of inclusion at Creighton."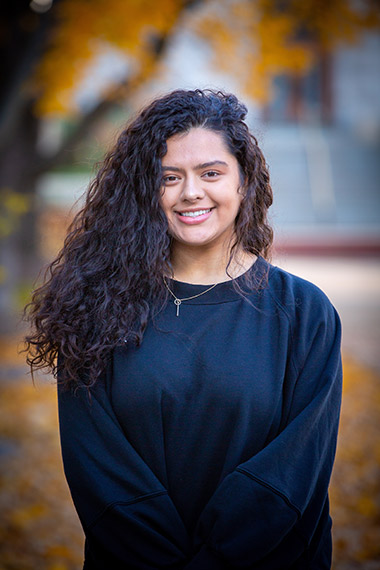 * * *
Hung's journey from L.A. to Creighton is thanks in part to Obama herself.
Hung first became aware of Creighton as a young girl, from the times she'd visit family in the small town of Wakefield, Nebraska. Somewhere along the way, Creighton became her dream school.
Hung is in the College of Arts and Sciences, where she's exploring her options for a degree and career, but whatever path she takes, she says, she will pursue her passion of advocating for others who can't advocate for themselves.
Hung's drive to pursue a life of service to others started as early as middle school, when she saw how effectively and compassionately health professionals took care of her mother when she was diagnosed with cancer. Hung wanted to be that kind of person, someone who was there to help people through their most difficult moments.
Years later, Hung was reluctant to go to Creighton. It was so far from home, from family, from everything she knew. She felt guilty about leaving her parents.
Her mother helped her make the decision by giving her Michelle Obama's book.
"That book became my guide to young adulthood," Hung said.
"It inspired me to step outside my comfort zone. It made me want to help clear a pathway for more first-generation minority students."
But that first year at Creighton was a difficult one. She struggled in her studies. She felt isolated, homesick, like she didn't belong. It was only with the help of others — as well as Creighton services like the Creighton Intercultural Center and TRiO — that she was able to pick herself back up and keep trying.
She received tutoring and therapy through campus services. She sought the counsel of her favorite professors. Despite her struggles, Creighton continues to be her dream school because of the extraordinary people leading by example, living for and with others.
* * *
Hung is Catholic herself — growing up going to the Jesuit parish of Dolores Mission in Boyle Heights and hearing presentations from Father Greg Boyle, SJ.
Hung says that Ignatian values live at the very foundation of who she is.
She sees those values at work at Creighton. She lives them herself. She says she's eager to, as Saint Ignatius said, "go forth and set the world on fire."
Hung is off to a great start. Over the past few years …
She's helped first-generation students from her high school apply to college.
She's tutored immigrants in South Omaha to learn English.
Over last Christmas break, she sat with elderly COVID patients in their final hours. (She plans to do so again over the upcoming break.)
She was just elected as the first Latina vice president of the Creighton Student Union.
And did we mention that she recently met the former First Lady? (Meeting Obama and getting elected VP actually all happened just a few days apart.)
The Obama event was livestreamed to campuses across the country, and many Creighton students watched as Hung confidently asked questions of one of the most famous and influential people in the country.
"It was a really emotional experience," Hung says. "I knew at that moment I represented not just myself. I represented Creighton. I represented my grandparents, who were immigrants. I represented first-generation students and students of color."
When Hung starts her term as VP next semester, one of her and CSU President Fransico "Frankie" Pastor-Rivera's priorities is to make everyone's voice heard, to make a more diverse and inclusive campus and to be a leader to lean on for anyone who feels out of place.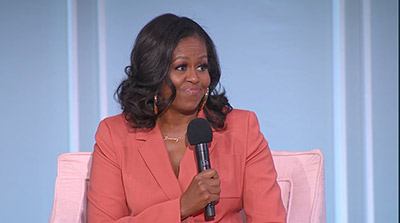 The experiences of the past few years, Hung says, have only made her stronger and more committed to "setting the world on fire."
She says she finds continual inspiration and guidance from a lot of strong female leaders.
One in particular.
* * *
You can support the amazing services, programs and initiatives that make up the Creighton experience for thousands of students like Leilani!
Click the following links if you want to make a gift to ...
The Division of Equity, Diversity and Inclusion