Featured Testimonial About Creighton University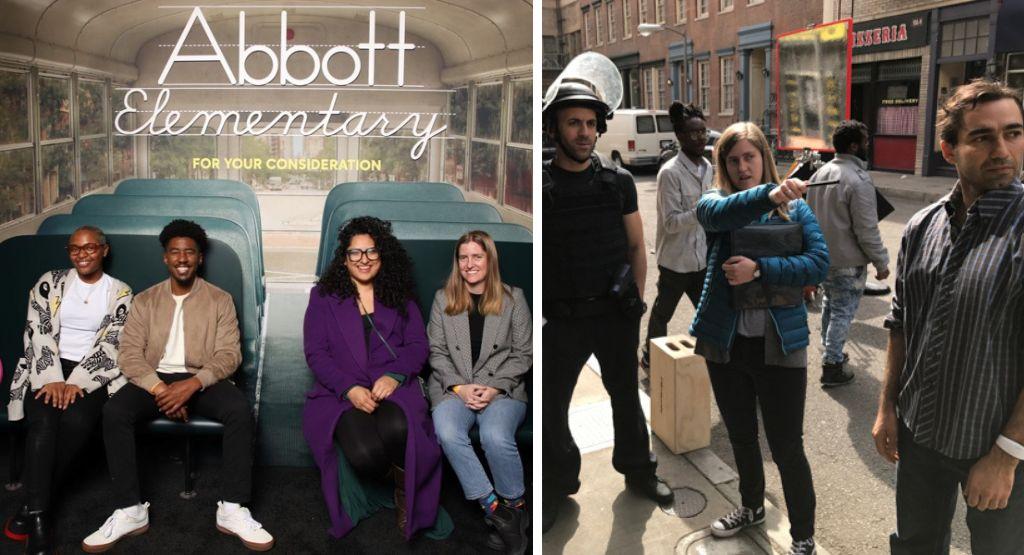 Working in television production can often be grueling, but Abbott is a supportive environment, and I've learned a lot.
By Cindy Murphy McMahon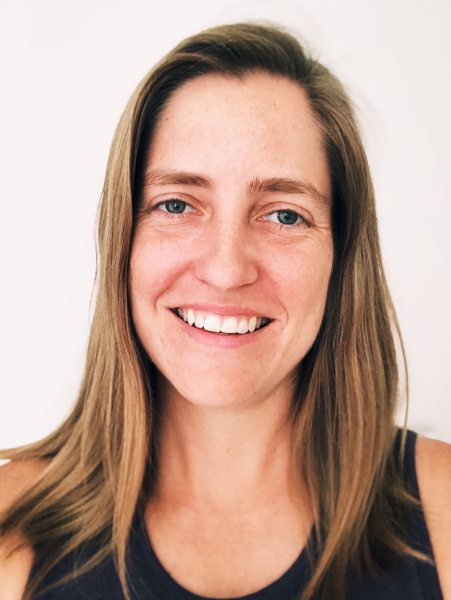 Many would-be actors with dreams of palm trees, magnificent homes, Hollywood celebs, the beautiful coastline — and star-studded aspirations — pack up their belongings and head west to Los Angeles.
That's what Creighton alumna Megan Carroll did. Except she didn't want to be a star on the big screen. Or even the smaller screen.
And she wasn't just crossing her fingers. She had a solid plan. And that plan — that desire — was to be a writer and director.

"I strictly want to work behind the camera," Carroll says, "There's no acting for me."
Carroll, BA'11, describes herself as an independent filmmaker who views film as a tool for social change and who creates stories to help audience members feel less alone. She also has held a variety of jobs in the entertainment industry, including working on an award-winning television show.
Carroll has persevered since studying English and graphic design at Creighton. She moved to L.A. to attend the University of Southern California (USC) School of Cinematic Arts, receiving her MFA in film and television production in 2019. While at USC, she was awarded the Jeffrey Jones Scholarship for Excellence in Writing and the Sloan Screenwriting Grant.
The knowledge and skills she gained and the connections she made have opened doors that she is prying open even wider — including working in production on the popular sitcom Abbott Elementary.

Her 'window' into Hollywood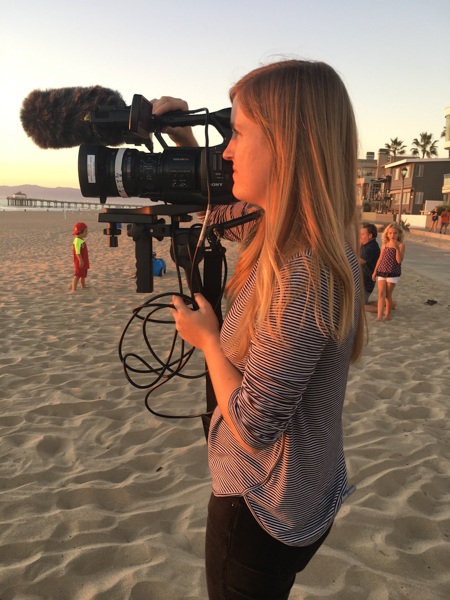 Through internships, she learned "coverage," the industry word for script reading, which helps studio development executives ascertain what scripts among the plethora they receive are worth considering. After graduation, she started picking up freelance coverage assignments to make money in between full-time jobs.
"I'm sure some people are able to make a full-time living writing coverage," Carroll says, "but I see it as more of a side gig."
She reads film scripts, TV pilot proposals and books that are being considered for development or adaptation and writes short synopses and opinions on the projects' strengths, weaknesses and viability.
"Development executives have a lot of scripts and books to sift through, so coverage helps them determine whether or not the project is worth their time to consider," she says.
A couple of times, she reviewed projects by A-list and Oscar-winning filmmakers. And occasionally, a script will come across her desk that she sees later as a finished product in the real world. "It's interesting to see how it changed or how accurate my assessment was. A lot can happen between then and when it gets produced."
She finds the side gig a good way to keep tabs on the pulse of the industry. "Writing coverage gives me a window into the current Hollywood landscape. And there's always something to be learned from reading a script, no matter how good or bad it is."
A step in the right direction
But while the freelance coverage work helps pay the bills and contributes to her ultimate goal of being a film or TV writer and eventually a director, she also has had success gaining entrée into television production through several shows.
One of the first to hire her as an office production assistant was the sitcom The Unicorn in the spring of 2020. It was one of the earliest shows to come back with testing protocols after the COVID-19 pandemic hit. Testing was required as often as three to five times a week, depending on the position.
"The actors couldn't wear masks during filming, so they were vulnerable, and we needed to protect them," Carroll says.
Production assistant jobs aren't glamorous. But after supporting the production staff with any needs — lunch, coffee, office supplies, etc. — Carroll says, "I get to sit in the room and listen to them work and see how things come together."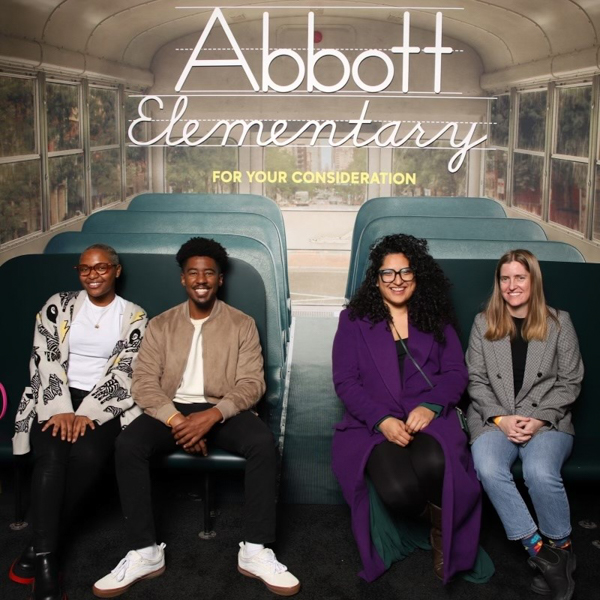 Next came the sitcom Grown-ish (a spin-off of Black-ish) and then Abbott Elementary, which has won numerous Emmy nominations and awards. Carroll is a production assistant during the current third season after spending the show's first two seasons as an office production assistant.
It's definitely a step in the right direction. And Carroll can't say enough good things about working on Abbott.
"I feel very lucky to be a part of the Abbott family," she says. "Of course, it's wonderful that the show is such a hit, but to me, the most important thing is that the Abbott crew is one-of-a-kind, full of really good, kind people who want to make the show the best it can be.
"Working in television production can often be grueling, but Abbott is a supportive environment, and I've learned a lot. Quinta (creator and lead actor Quinta Brunson) and the showrunners definitely have created an environment of positivity, and kindness starts at the top."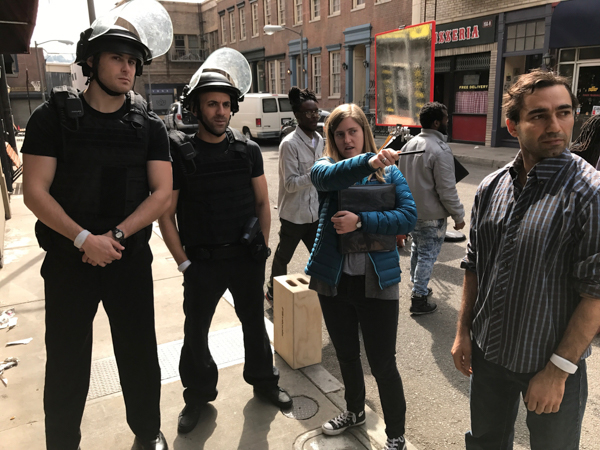 Meanwhile, Carroll continues to work on her own projects. She is pursuing screenwriting for both TV and feature films. Down the line, Carroll hopes also to establish herself as a director. She wrote, directed and produced a few shorts in grad school, and since
graduation, has produced a short documentary and directed a comedy short. (Check out Carroll's work on her website.)
But making shorts can get expensive, Carroll says, so lately, she has focused energy on writing.
"All you need to write is your brain, a computer and a copy of Final Draft, so it's much cheaper and more accessible. I also love writing, so that counts for a lot, too. I've been building a portfolio of features and pilots that I hope to use as samples to find work as a professional screenwriter."
At USC, she won a scholarship for a short about a jaded 8-year-old private investigator trying to solve the mystery of her friend's missing cat, and a Sloan grant for a feature screenplay co-written with a writing partner called The Bone Wars. It's based on the true story of two dueling paleontologists in the 19th-century American West who engaged in a madcap race for scientific dominance.
Creighton Connections
Carroll's interest in filmmaking began in high school, "but as a kid from Nebraska with no connections to the industry, the idea of becoming a filmmaker seemed impossible. I intentionally double majored in English and graphic design at Creighton, thinking I could learn some skills that could be applied to filmmaking, such as writing and visual composition, but I still didn't really know how to pursue it as a career.
"After college, I found myself working in marketing in St. Louis, where my duties included some video production and editing work. I enjoyed those projects but felt I wasn't really reaching my full creative potential. After years of casually considering it, I finally decided to apply to film school, thinking that I would surely get rejected, but then at least I could close the door on the dream and move on. But then I got accepted to USC, and everything changed."
While at Creighton, as part of her design major, she took video courses with Tim Guthrie, MFA, professor in the Computer Science, Design and Journalism Department, and learned how to shoot and edit on Final Cut Pro.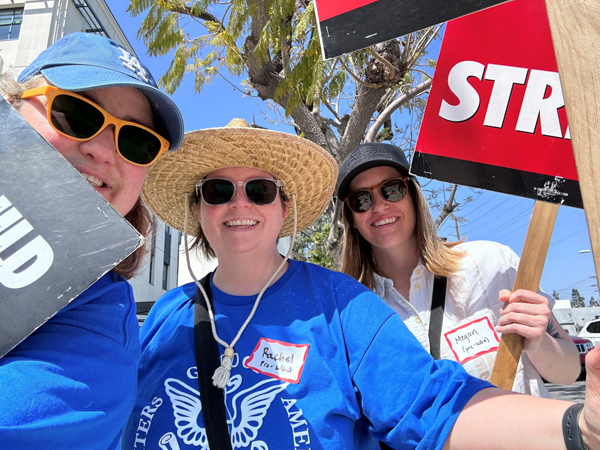 After graduation, she went to the Democratic Republic of the Congo with Guthrie and John O'Keefe, PhD, former theology professor, to assist on a documentary, Tokimane, about the courageous efforts of a Catholic diocese.
"That trip was another confirmation that filmmaking was what I wanted to do," Carroll says.
Although Carroll isn't qualified yet to be in the Writers Guild of America (WGA), the recent five-month-long strike did affect her.
Abbott Elementary  was set to begin production on its third season when the strike began, so she was out of full-time work for several months. In between picking up freelance copywriting jobs, Carroll joined the picket lines when she could. She was thankful to finally begin as the writers' production assistant on Abbott.
"We're gearing up to begin production soon, but obviously, that can't actually happen until the actors' strike is resolved, so we're all hoping that the two sides are able to return to negotiations and hammer out a deal soon."