Featured Testimonial About Creighton University
Addressing non-medical problems can improve health in the long run, or prevent disease in the first place.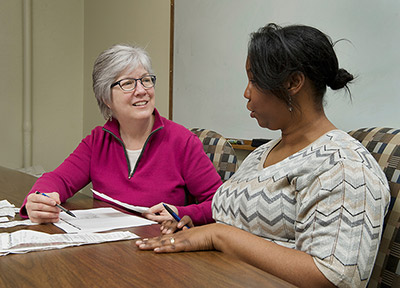 By Jayne Schram
An Omaha foundation and Creighton University health care researchers are teaming up to study whether a team-based financial education and lifestyle medicine intervention can both be good for the pocketbook and have measurable health benefits.
The Diabetes Education Center, established in 1984 and later renamed the Diabetes Care Foundation, founded by former Board of Trustees member Jim Greisch, BSBA'80, and Tim Wahl, MD, will invest $2.3 million in the investigation, with Creighton contributing funding, too.
"With Diabetes Care Foundation grants like this, we are able to scale our efforts and realize our dream of helping people with this disease," said Joan Heiser, executive director of the Diabetes Care Foundation and long-time director of the former Diabetes Education Center of the Midlands.
The interdisciplinary effort unites the Financial Hope Collaborative, housed in Creighton's Heider College of Business, with professors in the School of Pharmacy and Health Professions and the School of Medicine as well as the clinical team at CHI Health Creighton University Medical Center's University Campus.
Julie Kalkowski, founder and executive director of the Financial Hope Collaborative, has seen more than 900 graduates of the Collaborative's Financial Success Program achieve outcomes such as qualifying for better jobs, earning promotions, and saving regularly. She also has seen program participants become healthier as their financial stress decreases.
Estimates say 85% of health is determined by unmet social needs, or the social determinants of health. Economic stability is a well-documented social determinant that can impact as much as 40% of a person's health.
People under chronic financial stress are at risk for developing chronic conditions, particularly type 2 diabetes, which may lead to heart disease. The new study asks if an evidence-based intervention to improve economic stability improves the health of individuals with type 2 diabetes and prevents cardiovascular disease in low-income populations.
"No other chronic disease requires more patient input and education than diabetes," Wahl said. "The patient needs to be in charge, and to be in charge you have to be knowledgeable about what your goals are and how to attain them. If you have things interfering—such as finances—it's going to impede the ability to meet those goals."
The three-pronged intervention begins with financial education and coaching and includes access to a food pharmacy and intensive lifestyle coaching. A financial social worker and a lifestyle medicine specialist also will work with the 300 study participants.
"Finances are first," said Katie Packard, professor of pharmacy and co-principal investigator of the study. "People who are stressed dealing with their finances and worrying about paying bills cannot integrate an exercise or healthy eating intervention."
Health status will be assessed before the intervention, at 12 months following a financial education and coaching component and again at 18 months after a lifestyle medicine intervention.
"We were looking for value-centered mechanisms and solutions that were sustainable for the future," Greisch said. "Innovations and sustainability are, sometimes, at odds with one another. Our view is we have to find mechanisms that enable us to achieve both, and the things that Creighton has brought to the table are a unique combination of sustainability and innovation that we think propels the dialogue forward."
Co-principal investigator Nicole White, associate professor of pharmacy, said the study will benefit from having a funder who understands diabetes. "The people at the Diabetes Care Foundation can connect the dots between financial education and health," she said. "So much of traditional health care focuses on medications or procedures—reactively treating disease rather than proactively preventing illness. This initiative is exciting because we're addressing root causes. Why do we see more chronic disease in people with lower incomes?"
Mark Huber, BSBA'83, JD'86, chairman of the Diabetes Care Foundation and also a former Creighton Board of Trustees member, said the project bridges undergraduate education with the professional schools, as well as business with health sciences.
"I think Creighton is uniquely suited to combine those disciplines to create new solutions," he said. "When we approached the University and said, 'We'd like to talk to you about making an investment in trying to change the standard of care for diabetes in Nebraska,' we really were focused on medicine.
"It became apparent rather quickly that the Financial Hope Collaborative was demonstrating ways to help people get past the inertia—the struggles that are real, in order to be compliant with their medication—and to change their lives and improve the quality of their lives. Which means, you get a better job, which means you make better money, which generally means you make better decisions. It just all goes together," Huber said.
The research project takes place directly across the street from Creighton's campus at University Campus clinic. White said with so many students filtering through the clinic, Creighton's health sciences graduates will receive training to approach their patients with a different mindset.
"They will see that addressing non-medical problems can improve health in the long run, or prevent disease in the first place," she said.