Featured Testimonial About Creighton University
I will say that Creighton has been better to me than I think I've been to Creighton. It was a great place to go to school. It was a great place to work.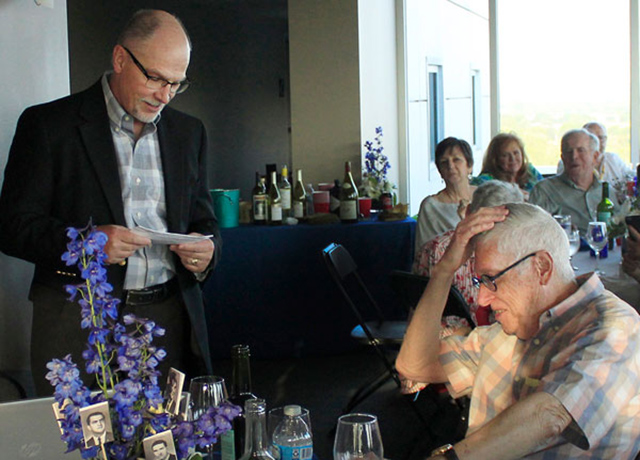 It was a surprise 50 years in the making.
At this summer's Reunion Weekend, the School of Dentistry Class of '69 floored Frank Dowd, DDS'69, when they revealed they'd raised $34,000 to name an exam room in the dental building's Collaborative Care Suite after him: The Frank J. Dowd, DDS'69, PhD Exam Room.
School of Dentistry Dean Mark Latta broke the news at the class' reunion dinner:
"Frank, your classmates are proud of you. They are thankful that you are one of them. They forgive you for all the grading curves you wrecked when they were dental students. They could think of no more appropriate way to demonstrate their appreciation for your accomplishments."
Dowd, a former Creighton faculty member, was briefly speechless at the surprise. But he soon found his voice and thanked the classmates he'd known for more than half a century.
"To have my name attached to this beautiful facility is incredible," he said. "I appreciate your generosity; it blows my mind."
Dowd also thanked Dean Latta for the honor.
"One of the hardest parts about the new dental school has been getting money, getting sponsors, and you've helped make this possible," Dowd told Latta. "You've done a wonderful job shepherding us into this school."
Frank Ayers, DDS'69, called Dowd the "conscience" of their class.
"I thought the one person who would be easy to get our class to make a gift would be Frank Dowd," Ayers said. "He was held in such esteem by our class. He was the most brilliant student, but he was more than that. You'll never meet a more moral person than Frank."
Ayers recalled Dowd helping his classmates prep for tests. If anyone was struggling with a subject, Dowd was there by their side, making sure the material sunk in and everyone passed.
"He was our anchor," said John Parrish, DDS'69. "We knew if we were going to honor anybody, it had to be Frank Dowd. No one was more worthy."
The room in the dental school building wasn't Dowd's first Creighton honor (and likely not his last). In 1969, he won the Spirit of Creighton award, presented to a graduating student from any school or college at the University. The award goes to students who embody the spirit of Creighton's founders.
Dowd has continued to embody that spirit, his transformative education resonating throughout the next 50 years of his life.
Dowd and his wife, Pat Dowd, stay active in their parish, sponsoring refugees, working in liturgy, and assisting the disabled and elderly. Dowd chairs the membership committee in the Graybackers, Creighton's retirement group. And on top of everything, he plays clarinet in the Omaha Symphonic Winds.
To this day, Dowd maintains an active dental license.
Dowd's PhD and renown as a professor were in pharmacology, but he taught medical, nursing and dental students.
"I will say that Creighton has been better to me than I think I've been to Creighton," Dowd said. "It was a great place to go to school. It was a great place to work."
In addition to preserving a place in history for Dowd, the Class of '69 made a notable discovery at their 50th reunion: Their class ended up having the most future Creighton faculty members of any in the School of Dentistry's history — five faculty members, including Dowd, Ayers, Gary Westerman, former School of Dentistry Dean Gerald Brundo and Roger Gerstner, all DDS'69.
"We did alright," Parrish said.
For more information or to make a gift to the dental school, contact Paul Findley, director of development for the School of Dentistry, at 402.280.1119 or PaulFindley@creighton.edu.