Featured Testimonial About Creighton University
All the things you would expect. Chipped or knocked-out teeth. A few broken jaws.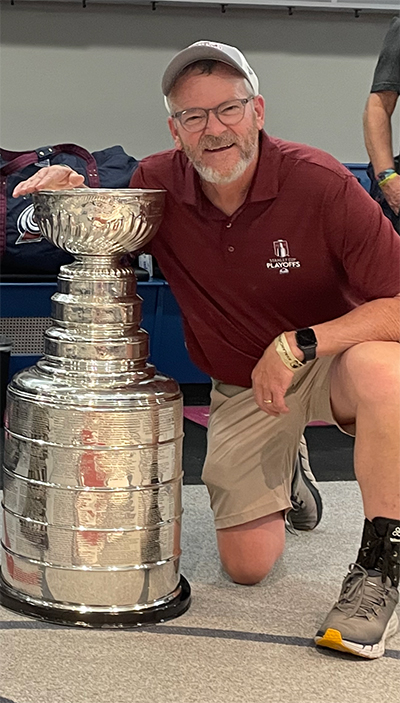 By Micah Mertes
Nearly 50 years ago, dentist and lifelong amateur hockey player Dan Selner, BA'85, DDS'89, learned a valuable lesson in the way that so many valuable lessons are learned — by getting hit in the face.
This was in 1973, back in Dan's hometown of Denver. He was just 10 at the time, on the ice for one of the first hockey games he'd ever played. Though he wore a helmet during the game, it didn't stop that puck from smacking him right in the face.
"Alright, if you're going to play, you're going to wear a face mask," Dan's mom later told him, as the doctor stitched up his forehead.
Given Dan's profession, an injury to the mouth might have made for a better dentist origin story. But the lessons he learned from that puck still stand:
1. Protect your face. 2. Always have a health professional or two nearby.
Many of the injuries Dan has seen treating the players of the Denver-based Colorado Avalanche have been a bit more gruesome than his own. In his nine seasons as the NHL team's dentist, he's seen just about every abuse a puck or stick or fist can cause the human mouth.
"All the things you would expect. Chipped or knocked-out teeth. A few broken jaws."
Dan's treated it all for "the Avs," who in just a few years have gone from being one of the league's worst teams to winning this season's Stanley Cup, their third championship but first in more than 20 years. (When the Avs won, Dan got to ride on top of a firetruck in the victory parade, as half a million fans in downtown Denver saluted the team's amazing comeback.)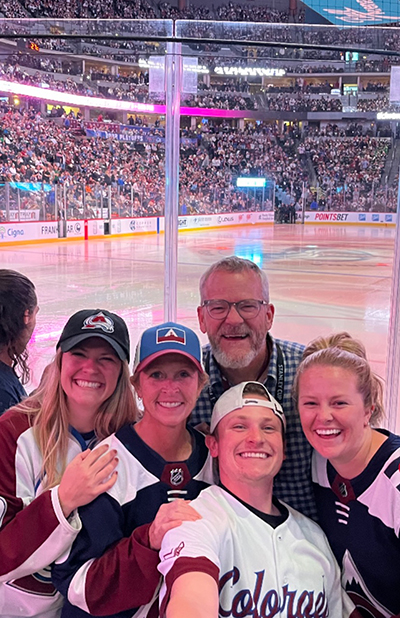 How Dan became the Avs' dentist also involves sports injuries. Just not from hockey.
Dan and his wife — fellow Creighton alum Carol Johnson Selner, BSBA'89 — have three children. All three play soccer. All three have had knee surgery related to playing soccer.
Through his children's operations, Dan met orthopedic surgeon Andrew Parker, MD, previously the Avs' head physician and medical director since the team first came to Denver in 1995.
When the team's previous dentist retired in 2012, Dan got a call asking if he wanted the gig. He's been with the Avs ever since, treating dental injuries for both home and visiting teams at every home game. When Dan can't make a game, one of his practice's partners fills in. (One of his two partners, in fact, is a fellow Creighton dentist — Andrea Taylor, BA'99, DDS'04.)
When Dan's not treating professional hockey players, he's at his Denver practice treating everyone else. One of the great things about going to Creighton's School of Dentistry, he says, is it prepares you for just about anything you'll ever need to do as a dentist.
Dan actually went to Creighton intending to go to medical school. But something about the dental program spoke to him. He took a detour.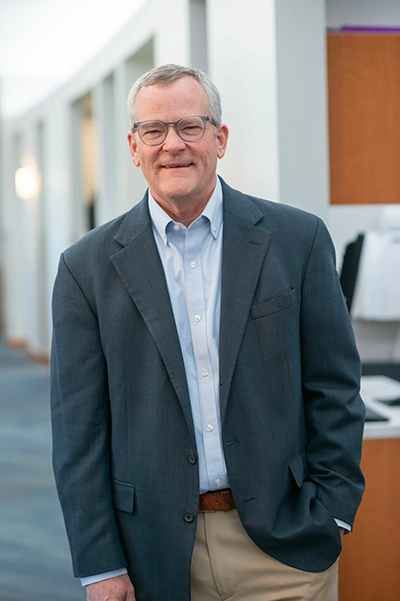 "Creighton's dental school is well-respected and has such a great reputation," he says. "The faculty and the community, in the College of Arts and Sciences and in the dental school, are truly special. Whatever you want to become, Creighton does a great job of creating a culture through the Jesuit tradition."
For all Dan learned from Creighton and his dental instructors, there was one piece of advice he chose not to heed.
"Whenever my instructors found out I was a hockey player," he says, "they would just shake their heads and say, 'You're going to break an arm or a hand or a wrist, and it's going to interfere with treating your patients.'"
But in all the games he's played since, he's suffered no major injuries. He even found a way to combine his profession with the sport he's loved since the day it jumped up off the ice and hit him right in the forehead.