Featured Testimonial About Creighton University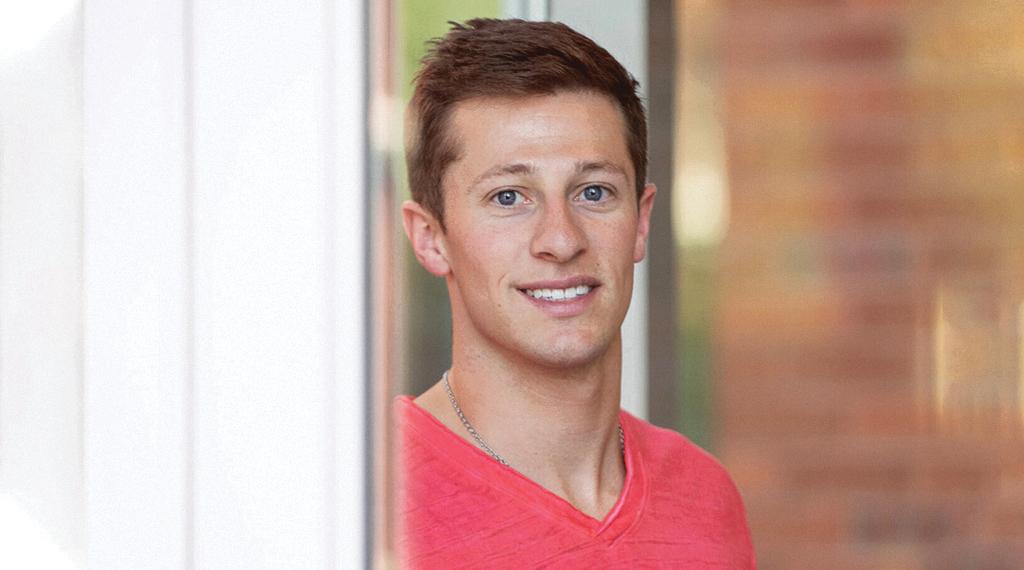 Creighton's made a big difference in my life. They're really good about giving you the critical-thinking skills and the tenacity to learn through challenges and overcome adversity. Creighton taught me how to lead.

Dakota Hendrickson
BSBA'18
Dakota Hendrickson, BSBA'18, likes to move fast.
Shortly after graduating from Creighton a semester ahead of schedule, he cofounded a business. A business that in its first 45 days made $2 million in sales. A business that since March has distributed enough of its patented nanofiber material to make more than 30 million N95-quality masks.
Recently, Dakota was named in Forbes' 30 Under 30, recognizing young leaders "creating the products, methods and materials of tomorrow."
The 24-year-old entrepreneur made the list with more than half a decade to spare.
And to really drive home this speed metaphor ... Dakota is also, in fact, a sprint car racer. He won his first race at the age of 8, his fourth time on the track.
"People make fun of me," says Dakota, son of Heider College of Business Dean Anthony Hendrickson, PhD. "They say, 'All you want to do is go fast!' But that's just how I'm wired."
In 2020, Dakota's need for speed proved essential.
Let's back up a few laps ...
In March, Dakota was set to launch Filti, the Kansas City-based business he cofounded. The product was HVAC filters with nanofiber technology capturing 95% of the smallest airborne particles. Filti products are exceptionally good at halting the flow of viruses.
Dakota helped patent this nanofiber material. Incidentally, he has no formal background in this or any other kind of science. But he learned. Quickly.
When everything changed last winter, when the world called for masks and other personal protective equipment, Dakota happened to have a large supply of highly breathable nanofiber filtration material. The HVAC filtration company became a mask-maker and supplier to other mask-makers (though they still also make HVAC filters).
Dakota pivoted, fast. He re-did the website. Initially an employer of one, he hired three recent Creighton alumni — J.P. Ameryun, BA'19; George Tsatsos, BSBA'19; and Johnny Wermers, BSBA'20. The company grew to about 35 employees in its first month.
J.P. and George had been furloughed less than 24 hours before joining Filti. The former started immediately on phones and emails. The latter drove a truck to pick up raw materials for production and fulfillment.
Johnny wasn't even done with school yet, completing his final semester remotely. He and George moved to Oklahoma for several months to set up a manufacturing and distribution center.
The Creighton crew had to hit the ground running, and the pace has barely let up since.
"One thing Creighton really teaches you," Johnny says, "is adaptability. The four of us know how to adjust quickly and solve problems."
And there were so many problems to be solved. Supply chain failures. Lost orders. The first-year, day-to-day difficulties that tank many a startup.
But they endured. Filti made $4.2 million in revenue for 2020, even as it ate a few huge costs. This spring, Filti upgraded its shipping from UPS ground to two-day air at no extra cost to the buyer.
"People needed our product ASAP," Dakota says. "We knew we needed to get it to them. It's part of our duty to help those in need. And right now, a lot of people are in need."
No matter how fast he goes, compassion is a corner he'll never cut. For others. With others. Just as he learned at Creighton.
"Creighton's made a big difference in my life," he says. "They're really good about giving you the critical-thinking skills and the tenacity to learn through challenges and overcome adversity. Creighton taught me how to lead."
Dakota and his fellow Creighton alumni cited several professors who prepared them for the many challenges of starting a business in a pandemic, including Regina Taylor, assistant professor of management in the Heider College of Business.
Taylor recalls Dakota as an excellent student — "thoughtful, inquisitive, ambitious, conscientious. Even as a student, he was already thinking at a different level about how things worked in the real world."
One of the Heider College of Business' great strengths, Taylor says, "is its connection to the business community. Students are able to apply theory to practice, and they are fully prepared for the job when they graduate."
Success rates — 99% of HCOB graduates are employed or enrolled in graduate school within six months of graduation — are a testament to how truly ready students are.
Some even go on to start their own business and make the Forbes 30 Under 30 list.
Asked about his recent accolade, Dakota expressed gratitude for the support of his faith, his family and his excellent team.
"It feels most amazing to know that we're helping provide clean air to so many people, that we did something for the better in a time that was very challenging," he says. "At the end of the day, we're just a couple of Creighton kids trying to make a difference."
And as quickly as possible.