Featured Testimonial About Creighton University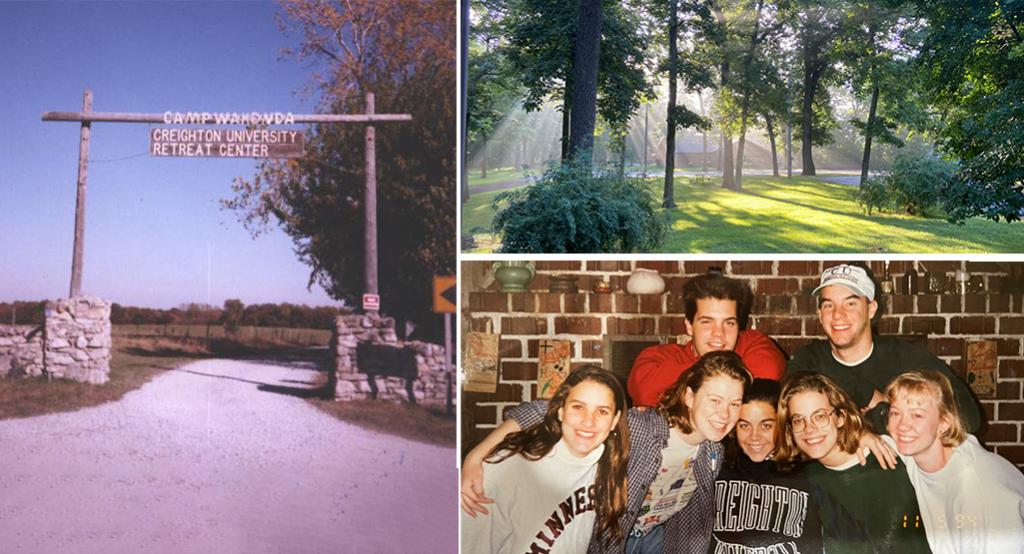 There's something about staying here, the quiet of the forest at night. You see stars you never see in cities. There's a peace that just frees the spirit to do whatever they are there to do.
Creighton alumni will have the chance to revisit – or experience for the first time – the Creighton University Retreat Center at a special Return to the Nest Retreat on Oct. 13-14. Find more information and register.
* * *
By Cindy Murphy McMahon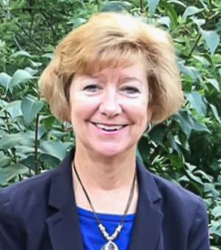 For 22 years, Kathy Kemler worked in human resources, raised her children with her husband, and generally enjoyed her life. But something didn't feel quite complete. Something was missing.
She felt a deep yearning, "… to know more about who God was for me and who I was for God."
Kemler, MA '18, enrolled in Creighton's graduate certificate in spiritual direction, and then, having found exactly what she was looking for, the master's degree program in Christian spirituality.
During that time, as part of her educational program, she went on an eight-day Ignatian retreat at the Creighton University Retreat Center in rural Griswold, Iowa, about an hour east of Omaha.
"There we were, in the middle of God's creation, the middle of a forest, with everything in full bloom," she says. "The trails were very inviting, there was good meditative space for prayer.
"I had been on retreats before, but never like that. I could just be open to God. I remember being grateful also for the food provided, the hot coffee, the great presence I was afforded."
She recalls experiencing the simplicity of it all, the slowing down, the relaxing, the being attentive to God.
She graduated with her master's degree in 2018 and began doing spiritual direction for others. Then, a little over two years ago, Creighton entered her life once again. The University was looking for a retreat center director.
Today, Kemler calls that quiet, peaceful haven her workspace. As director, she leads a staff of nine – some full time, some part time – including cooks and kitchen staff, a maintenance, lawn care and trail worker, housekeepers, and a front office/reservationist.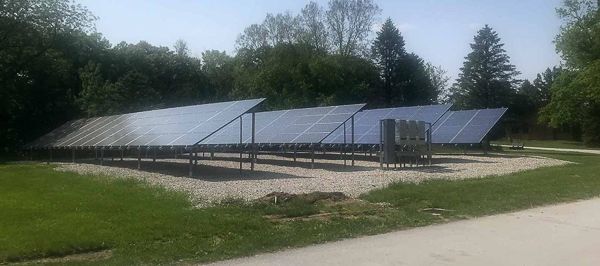 "They are incredibly dedicated to the mission," she says of the staff. "They are all about the retreatant."
The position is a perfect blend of Kemler's background in both human resources and spirituality. She's learned about fences and geothermal systems, and recently, solar panels, when 192 of the energy-efficient panels relocated from the campus to the retreat center and eventually will power five buildings.
Most importantly, she gets to provide spiritual direction on a regular basis.
"I love companioning another on their journey with God. It's a totally sacred privilege, and I am in awe. Just to listen to another, how God loves them, moves them."
In addition to Kemler, the Rev. Bob Dufford, SJ, who recently celebrated his Jubilee (50 years) in the Society of Jesus, is also a spiritual director and the center's chaplain. A member of the famed and gifted St. Louis Jesuits, who transformed liturgical music beginning in the mid-1970s, Fr. Dufford offers Mass and Reconciliation and continues to create music that he combines with "imaginative" prayer for reflection on Gospel stories.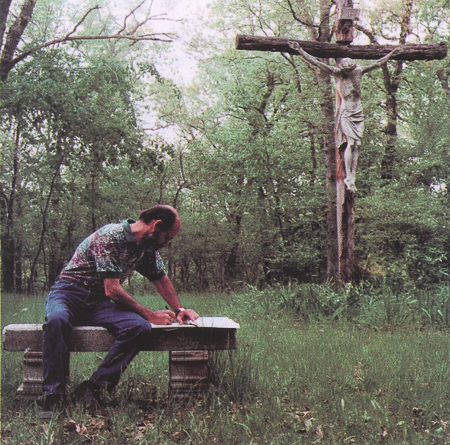 Next year, the retreat center will celebrate its 30th anniversary of the move to its current location. And in the spring, Campus Ministry will host its 50th Encounter with Christ retreat for students. Each Encounter retreat over the past few decades has taken place at the retreat center.
Tucked among giant leafy trees and laced with all-natural trails, the retreat center is open to students, alumni, faculty, staff, high schools, churches, work groups, Bible study and prayer groups, and others. AA and other support groups, mindfulness practitioners, artists, all find comfort there. Creighton faculty head there for writing retreats when they particularly need solitude to concentrate.
People come for individual spiritual direction, or they may be on organized multiple-day retreats. They spend one or several nights, or they may be at the retreat center for just the day. And they travel from all over, although those within driving distance are the most frequent visitors.
"We had someone come from China," Kemler says. "We just had someone from Arizona, and we have regulars from Idaho. People come from all over the country.
"There's something about staying here, the quiet of the forest at night. You see stars you never see in cities. There's a peace that just frees the spirit to do whatever they are there to do."
One of the key groups that uses the Creighton University Retreat Center extensively is Campus Ministry, which offers students a plethora of retreats: freshman, senior, silent, Encounter with Christ, and more.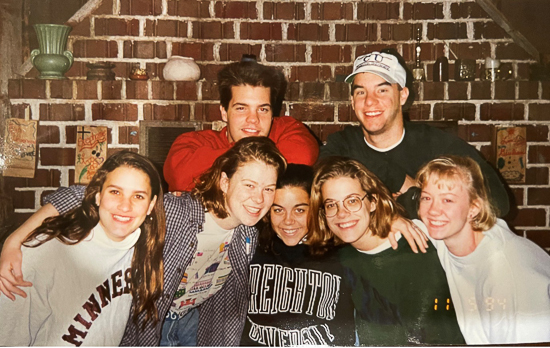 Anne Smith Harty, BSN'97, MS'00, EdD'19, who holds three degrees from Creighton and is an assistant professor in the College of Nursing, attended one of Campus Ministry's earliest Encounter with Christ retreats shortly after the refurbished center opened under Creighton's auspices in the mid-1990s.
"I loved going on retreat at the Creighton Retreat Center," she says today. "I felt a great sense of community and love. I'm still friends with some of the same people I went on that retreat with." Harty went on "almost every retreat" offered thereafter, but admits, "I was really bad at the silent retreat, because I love to talk!"
After she graduated with her bachelor's in nursing in 1997, Harty pursued her master's in nursing. Then she and her fellow Creighton grad husband, both of whom were originally from Sacramento, California, became the proud parents of twin girls and made the difficult decision to move back home to be closer to family. Still, she maintained her ties to her alma mater and in 2017 became associate director of admissions for Creighton, recruiting students from Northern California and Colorado.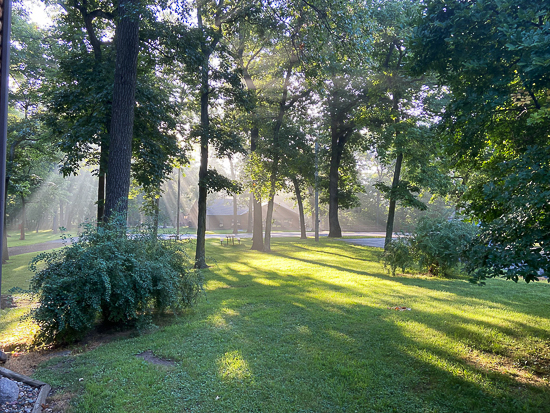 In that role, she made an annual trip each May to campus, and then to the retreat center, for an admissions team retreat. She found the place still moved her, still touched her heart and spirit.
"My first time back since I was an undergraduate was in 2018. I cried as I sat in front of the fireplace in the lodge. I was wrapped up in so many warm memories and I immediately felt a sense of gratitude for being 'home.'"
She and her husband, Pat Harty, MD'00, have come full circle, in more ways than one. As their daughters grew up, the couple decided to return to Omaha.
"The summer of 2022 was busy for us," she says. "Our daughters graduated from high school, we moved across the country, moved them into their colleges – Creighton and Regis University in Denver – and started new jobs. It was crazy, but we knew the Holy Spirit was at work, leading us back to Creighton."
Anne began teaching nursing. Then a student she had recruited from Sacramento asked her to be a faculty leader on the Encounter with Christ retreat this past spring.
"The invitation was like an answer to my prayers," she recalls. "I'm not sure I have the words to explain how meaningful this invitation and experience was for me. The students and I accompanied each other on the retreat – they filled my heart with love and my life with meaning and purpose."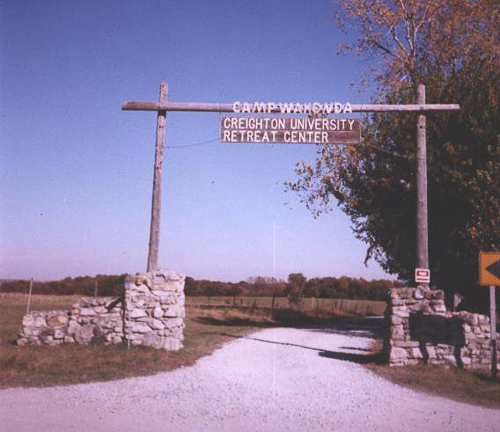 Like Harty and Kemler, thousands of Creighton alumni experienced spiritual retreats hosted by Campus Ministry while they were students. Retreats were often held at the O'Donnell Center in North Omaha until the pastoral, wooded property in Iowa became available.
The current-day retreat center land originally belonged to the Boy Scouts of America. Des Moines diocesan priest the Rev. Lavern Wingert bought it in 1978, complete with a scout lodge and a caretaker's residence. He built more structures over 10 years and offered the facilities to those in need of spiritual healing. He also rented the space to various groups, and when the work became too much for him, he sold the bulk of the property, 150-plus acres, to Creighton; the University then remodeled and modernized many of the structures.
Today, the retreat center can accommodate 103 guests in beds, and its 13 buildings include a chapel, several apartments, log cabins, a lodge that can sleep an additional 70 in sleeping bags, conference rooms, a dining hall that can serve 140 people, and more. Visitors find outdoor stations of the cross, beautiful prayer gardens, uplifting religious statues, and of course, the majestic trees and well-traveled trails.
In the last fiscal year, the center hosted 3,611 overnight guests and another 774 day guests, and served more than 14,000 meals. Operating expenses are funded through revenue collected from the retreatants, donations and the University.
Anne Harty has a singular hope for today's students who make a Creighton retreat: That they build the same kinds of memories she did and that those memories are woven into the fabric of who they become.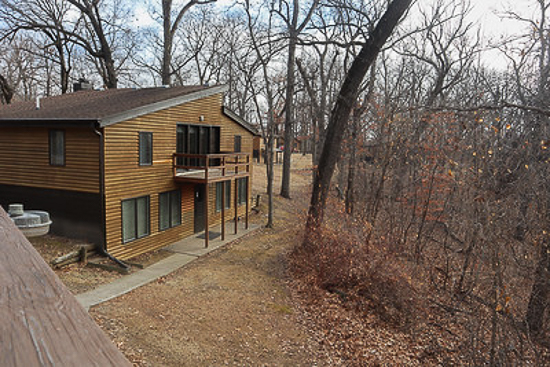 "From playing flag football on the big lawn, eating the yummy cinnamon rolls, getting poison ivy – OK, that wasn't such a special memory," she laughs, "to taking long walks on the wooded paths."
And once she starts with the memories, she can't stop. "Turning off our flashlights and gazing up at the stars, letting our guard down and being vulnerable with one another and feeling God's love through the love of others. Spreading out our sleeping bags in the lodge and sleeping by the fire. And late-night snacks and deep conversations. Mass in the chapel and sloppy joe's and homemade soup and laughter and tears. And giving a talk titled, 'Who am I and How am I doing?' followed by playing the Indigo Girls, 'Closer to Fine.'" She pauses.
"We are so lucky to have this very special place."
* * *
You can make a gift to the Retreat Center today!
Or make a gift to Campus Ministry here.