Featured Testimonial About Creighton University
Creighton University wouldn't be here today were it not for the vision and generosity of an extraordinary family. The Creighton family saw the good they could do — during their lifetime and beyond. Today, visionary donors who support the University's mission through planned giving fuel the Creighton experience for future generations, inspire peers, and create their own legacy that will endure in time.
Visit Creighton's new Gift and Estate Planning website to learn about the different gift options available to you. Senior Director Robert Skrydlak and Director Mike Johnson are available to help you explore ways to create your legacy through strategic planned giving.
Meet one of the members of our dedicated team, Gift and Estate Planning Director, Mike Johnson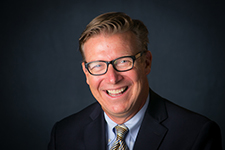 Q: What is your favorite part of your job?

A: "Meeting our donors, alumni, and friends. It's an honor to learn how Creighton fits into each of their stories. To be a part of their philanthropy and help create a legacy is a special position to be in."

Q: What is planned giving?

A: "In my experience, donors seem to gravitate towards three primary planned giving options: a bequest, annuity, or trust. Planned gifts can be established now in accordance with your personal values and beliefs, and they ensure your generosity lasts beyond a lifetime. Think of them as 'future gifts.' Although, some planned gifts can be done now, such as gifts of appreciated stocks. Important details to consider in planning is that some gifts provide tax advantages and others can create a lifetime source of income.

"I'm here to help craft a giving plan that best serves each individual and makes the greatest impact for our students and faculty."

Q: Planned giving has a lot of technical language that can be difficult to understand. How do you approach conversations with those who are curious about these giving options?

A: "That's just it, it all begins with a conversation. The key is that it focuses first on the person. It's important to me to understand their motivation, what they're passionate about, and the impact they want to make. It's very personal and private planning that I respect in the highest of confidence.

"I'm always available to our alumni and friends, or their advisors, to talk through their philanthropic goals with the University. I also encourage them to visit our new website."

Q: What will they find online?

A: "I'm really impressed with the set-up of the home page. It acts as a navigation tool to help get started and provides access to important resources, like how to plan a will. It highlights all the available gift options. I also encourage everyone to read the donor stories. The far-reaching faith, vision, and generosity of our Creighton community is inspiring."


How do planned gifts make a difference?

A: I meet so many amazing people in our Creighton community and we are all here because in 1876 in her will, Mary Lucretia Creighton left a $100,000 bequest to establish the University. The power of charitable bequests and other planned gifts is demonstrated through each generation of talented students who earn their degrees from Creighton University and achieve their dreams.
"I'm grateful to the donors who support our mission and help guide our academic future by making these deeply personal and distinctive gifts."

The Gift and Estate Planning team is available to answer any questions you or your advisers may have about fulfilling your philanthropic goals with Creighton University. Visit our website to learn more.