Featured Testimonial About Creighton University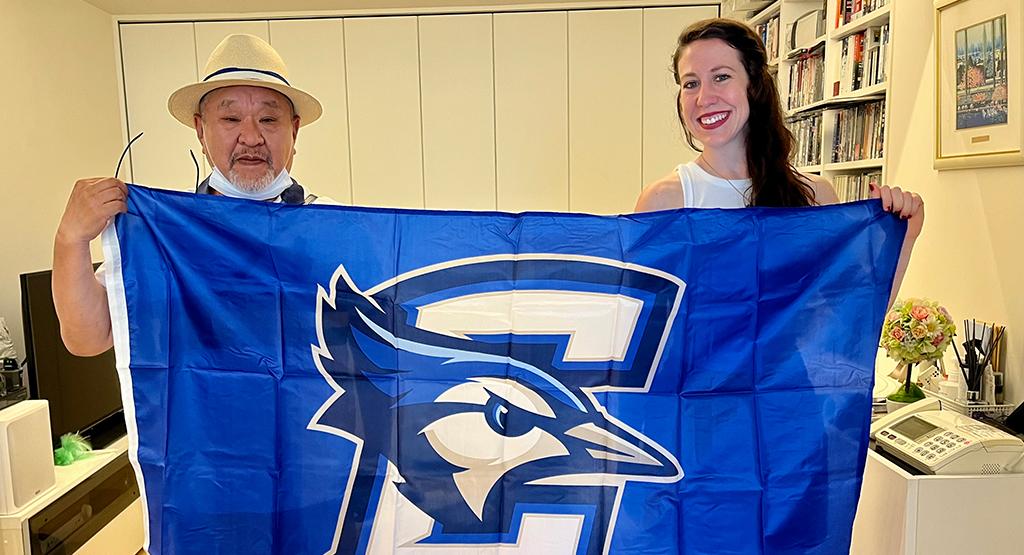 The more we leave our comfort zones and explore, the more we find meaning and significance all around us.
By Lucy Hancock and Micah Mertes
Sometimes Lucy Hancock likes to get a little lost. What better way to find the thing (or person) you never knew to look for?
In Japan this summer on a Fulbright Scholarship, Lucy, BA'10 — a coordinator for Creighton's International Student and Scholar Services — found herself wandering aimlessly through a Tokyo neighborhood.
"I have a pretty inept internal compass," she says, "so whenever I travel, I try to get my bearings by memorizing nearby landmarks. In the process, I wound up in a cul-de-sac of homes."
A man tinkering in his garage saw Lucy and spoke to her in Japanese.
Lucy responded: "Konnichiwa! Eigo o hanasemasu ka?" ("Hi! Do you speak English?")
"Yes, a little," he said. "Do you need any help?" (He was being modest, Lucy says. His English is terrific.)
Lucy and the man — Takanori Korematsu, retired former CEO of Venture Techno Capital Consulting in Tokyo — started chatting. He asked her which of the United States she was from. As soon as she said, "Nebraska," his eyes lit up.
"Omaha?!"
"Yes. Have you been?"
To Lucy's delight, Takanori said that he attended Creighton University more than 40 years ago while studying abroad. The former political science major lived in Swanson Hall. He loved every second of the experience.
He told Lucy stories about going to Husker games in Lincoln and studying in the library for hours on end. He spoke of his host family, whom he still keeps in touch with.
"Chatting with him," Lucy says now, "I felt a deep sense of home and connection for my fellow Bluejay."
After Takanori gave her directions and sent her on her way, Lucy headed back to her hotel to assemble a care package of Creighton swag and Bakers chocolate. She then managed to find her way back to his home.
Takanori and Lucy explained their mind-bogglingly improbable Creighton connection to his wife. Moments later they were all drinking coffee and exploring Creighton's campus on Google Maps.
Then Takanori showed her around the neighborhood. He showed her a Shinto shrine, as well as the cemetery where 18 generations of his family are buried.
"In those three hours," Lucy says, "I learned more about Japanese culture, religion and language than I had in the many months of reading I did before visiting the country."
To wander in a city of nearly 14 million people and stumble upon a fellow Bluejay felt like fate, she says.
"My takeaways from this experience are …
"The more we leave our comfort zones and explore, the more we find meaning and significance all around us.
"Kindness is a universal language.
"Bluejays flock together. Once a Bluejay, always a Bluejay."