Featured Testimonial About Creighton University
One of the reasons I go to work every day is I get to bring happiness to thousands of families.
"When you wish upon a star..."
For many people, both young and young at heart, those words conjure images of unforgettable characters, classic stories, and magical worlds. For Victoria Vitola, BFA'15, they symbolize a lifelong pursuit of producing joy, day-in and day-out.
Vitola is a Guest Experience Manager at Disney's Hollywood Studios in Orlando, Florida, where she runs two shows: "Disney Junior Play and Dance!" and "Beauty & the Beast Live on Stage."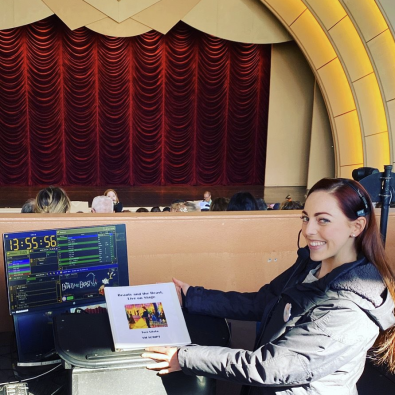 During performances, she's in a booth with the script, calling cues for lighting and special effects. Her two technicians coordinate backstage, getting the actors to their positions. Some productions take upwards of 50 people working together to deliver shows 5-10 times per day.
In the amphitheater showing "Beauty & the Beast," Vitola's booth is in the middle of the audience. It's a unique opportunity to see the audience members' reactions up-close. Sometimes, after the show, they will even thank her and her team.
"You never know when it may be somebody's one and only time to experience the show," says Vitola. "One of the joys of my job is when I hear someone say how it made their day. One of the reasons I go to work every day is I get to bring happiness to thousands of families."
Working at Disney was Vitola's ambition. It started when a cousin got a job in the theme park as a dancer. Vitola's family took summer trips to Disneyland to see her cousin dancing down Main Street.
Vitola's Disney dream grew, and she brought it to Creighton. As a student in Fine & Performing Arts, she pursued scenic design and performance.
One reason Vitola chose Creighton, she says, was the well-rounded college experience it offered. Along with fine art, Vitola studied English, philosophy, and math. On campus, she did light design, scenic design, and stage management, which was a huge benefit when she graduated early and used her last semester to enter the Disney College Program.
"It's a living, earning and learning program," says Vitola. "You get put in a front-line cast role. I was in Tomorrowland (at Disney World), loading people onto Space Mountain. It gives you customer service experience while still exploring your field. I was interacting with guests while taking classes at Disney University."
In addition to working in production management at the Happiest Place on Earth, Vitola has built a successful freelance career as a theatrical scenic designer. She has a heart for children's theater and looks for opportunities to design shows around the country.
As a scenic designer, Vitola pours over scripts, becoming intimately familiar with the characters, settings, and themes. She then envisions where each scene takes place and conceptualizes the transitions from one set to another as the story progresses. For example, in Rodger and Hammerstein's "Cinderella," the action starts in a forest, then moves to a cottage, a palace and back to the forest.
"It's fine art, mixed with a script and a bit of architecture thrown in," Vitola says. "Most people don't realize it, but theatre takes a lot from the world around you and puts it together in one cohesive story."
To help tell these stories, she uses many of the tools she honed at Creighton. She still has her copy of "The Backstage Handbook" and notes from instructor Mark Krejci's Stage 101 class. The mentorship Vitola received from faculty member Bill Van Deest was invaluable, giving her a foundation in design that she's built on throughout her professional career.
"The technology changes, but the principles stay the same," she says. "Before some of the software I use even existed, I learned to draft from Bill."
From Space Mountain to Hollywood Studios to community theaters across the country, Vitola has engaged and entertained thousands. Her passion leads her down a path with opportunities to tell stories, collaborate with fellow artists and, as the song goes, make her dreams come true.