Featured Testimonial About Creighton University
Trailers. Promos. Key arts. Titles. Episodes. We test all that through surveys and focus groups. We're figuring it out.
It's been called "Peak TV" — the current state of popular entertainment where anyone, anywhere, can find something to watch. Whether you're looking for true crime, historical fiction or modern romance, there is a perfectly crafted show waiting for you.
But what are the odds that it happens to be there when you hit play?
If Nicole Simonson, MBA'20, has her way, those odds are pretty good. Simonson, a content insights manager at Hulu, is all about crunching the numbers to help a show connect with an audience.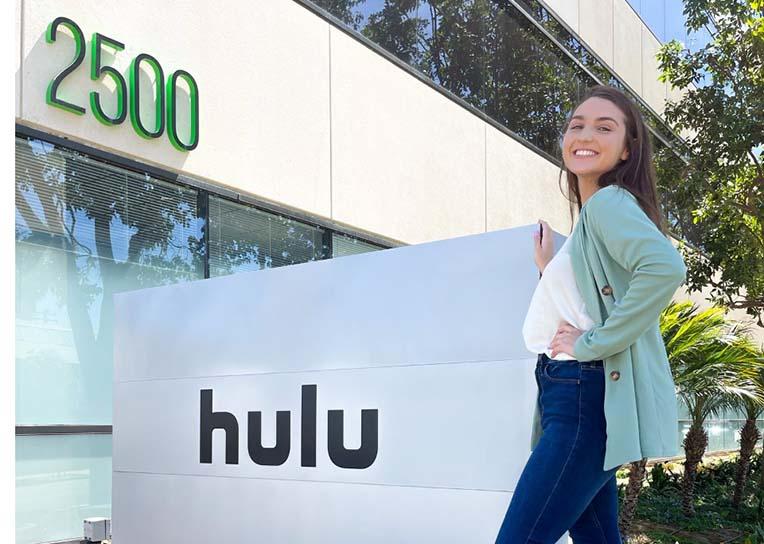 "Trailers. Promos. Key arts. Titles. Episodes. We test all that through surveys and focus groups. We're figuring it out," she says.
In today's world of data-driven creative, Simonson has a direct view into what's working for the viewer. She's squarely at the nexus of technology and entertainment. At Disney-owned Hulu, Simonson works across multiple departments to help determine how shows are developed and marketed.
In her Los Angeles home, Simonson thinks about all the pilots she's seen that will never air.
"They're out there somewhere," she says. "It's fun to look back on all the ones that didn't make it because I know that no one else will ever see it."
That's an old entertainment paradigm Simonson and her team might be able to change. Thanks to her team's testing and data gathering, shows can find their audience — or even adjust to it.
Simonson evaluates shows to see what resonates with viewers. Insights from surveys and focus groups are sent to the creative teams, who may take the information and use it as they develop character, plots and story arcs.
Persistence and iteration are something Simonson is familiar with from her time on the softball diamond. While pursuing her MBA, Simonson played in 13 games for the Bluejays' 2019 season. She came to Creighton as a graduate transfer from Southern Utah, where she earned an all-conference honorable mention.
"Softball is a sport of failure," Simonson says. "If you are successful three times out of ten, you're doing well. You must have this mentality that you have to try. If it doesn't work, then it doesn't work, and you've learned something. And you try again."
Simonson's professional experience puts this tenacity on display. She started out studying economics at Southern Utah, targeting a career in finance. But an internship with a wealth management firm showed her she lacked passion for the profession. As graduation approached, she decided to get her MBA and diversify her experience in marketing and management.
Creighton appealed to Simonson both for the opportunity to play softball and the flexibility in the MBA program. She was able to craft her schedule to give herself a broad background in business classes, supplementing the economics and finance courses from her undergraduate degree. She focused on getting a holistic understanding of business so she would be prepared for wherever her career might take her.
It was her younger sister, Ashley Simonson, who put Nicole on her current path.
"She said, 'You love entertainment. why don't you go into that,'" Nicole recalls, "But I was an econ major. What am I going to do with that? And she says, 'You know they're all businesses, right?'"
That sent Simonson searching for opportunities. She landed an internship at Fox Entertainment, which took her to Los Angeles.
That time with Fox Entertainment solidified her passion for the entertainment industry. She worked on the studio lots and would use her lunch break to wander the productions.
During these noon strolls, she never knew what, or who, she might see. One moment she'll always remember is spotting the entire cast of Modern Family posing for a photo. Turns out it was the last day of filming for the series finale. That cast photo quickly made the rounds on social media, and Simonson could say she was there.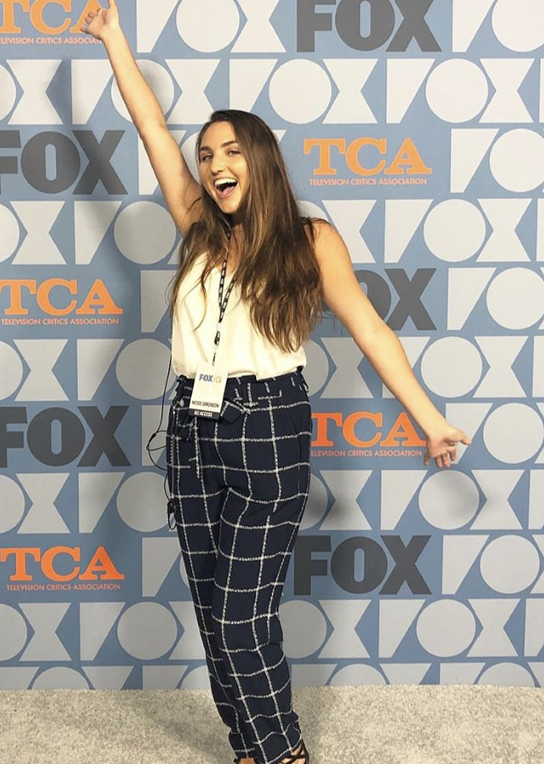 The internship turned into a full-time job while Simonson finished her last year of classes in the Heider College of Business online. Her new direction shaped how she finished her degree, her professional experience adding another layer to her Creighton education. And vice versa.
"I remember taking a survey design class," Simonson says. "It was super helpful because I was working, and I realized, 'Oh my gosh, I can apply this exactly to what I'm doing in the real world!'"
Simons revels in the variability of her job. There is not one "typical day."
From development to marketing and publicity, Simonson and her data-driven insights provide support across many different departments. It's exactly what she had hoped for when she earned her Creighton MBA — a chance to dive in and get a holistic, full-picture approach of the whole business.
There might be no business like show business, but Simonson's Creighton education prepared her for that, too.