Featured Testimonial About Creighton University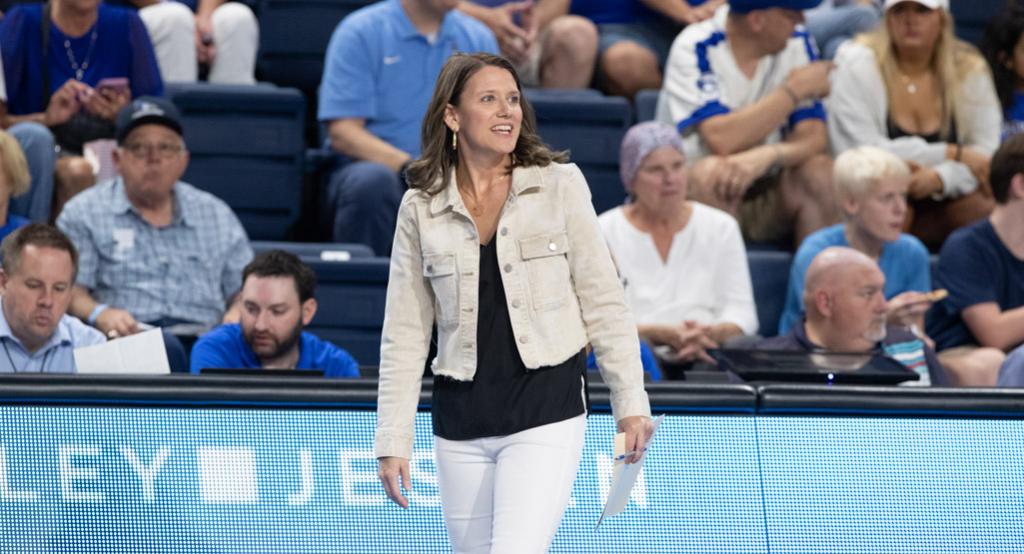 "If I sit down and sit back and look back, yes, I'm proud of what we've been able to grow within the program. But I think I am much more focused on how do we get better next practice, next week or next year? You want to reach higher. You want to go further.
Kirsten Bernthal Booth
Creighton Volleyball Coach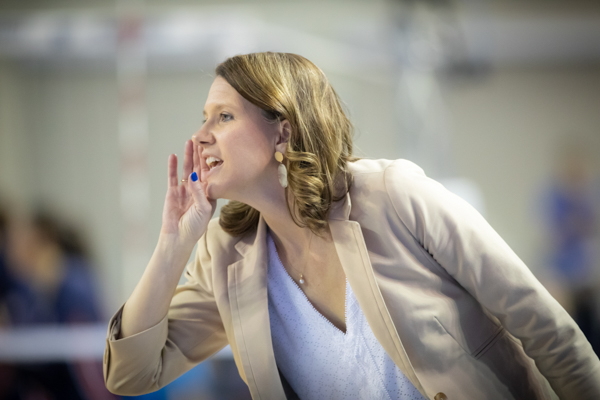 By Jon Nyatawa
Creighton volleyball coach Kirsten Bernthal Booth's eyes darted between the two practice courts full of players jumping, lunging and diving as they worked on the subtle intricacies of technique and skill.
Booth's team had not lost a set in a month. Yet on this particular mid-November afternoon, you couldn't tell.
Booth stood near the baseline, arms crossed, mind racing.
If the volleyball season had a pause button, perhaps you'd see her gazing around and relishing in this moment. Supported by top-notch assistant coaches, dedicated staffers and a growing community of loyal donors, Booth is entering her third decade at Creighton of mentoring incredible young women — who happen to also be superstar athletes.
They spend almost every day in an immaculate practice facility, the Ruth Scott Training Center, built exclusively for women. And across the street, there's an arena that's filled to the rafters with diehard volleyball fans for every home match.
Oh, and they win. They win a lot.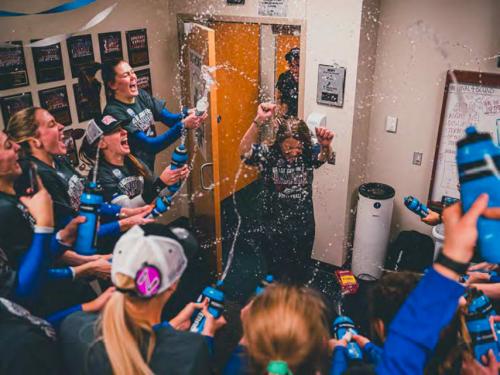 The Jays just clinched a share of their 10th consecutive BIG EAST regular season title by defeating Butler on Sunday, Nov. 19.
Creighton volleyball has come a long way in the 21 years since Booth took the head coaching job.
But in the middle of a late-season practice, Booth doesn't think about any of that. Call it a consequence of competition, perhaps. You are cognitively conditioned NOT to relax or reflect or relish in triumphs. Especially not now, in November, during the most pressure-packed stretch of the season.
"I think we all live in the moment, where we want to continue to move forward in whatever we're doing," Booth said. "So if I sit down and sit back and look back, yes, I'm proud of what we've been able to grow within the program.
"But I think I am much more focused on how do we get better next practice, next week or next year? You want to reach higher. You want to go further. So I think those things definitely are more consuming in my mind."
This week, it's the BIG EAST Volleyball Championship. The Jays are aiming to win that tournament for the ninth time in 10 seasons.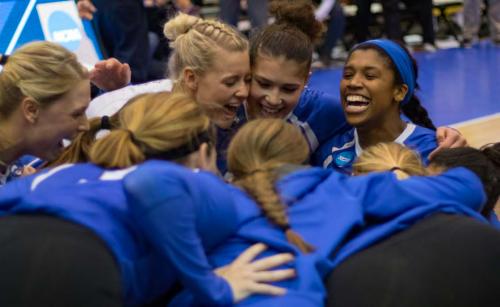 Next week, it's the NCAA tournament. It'll be a 12th-straight appearance for Creighton, which reached the Elite Eight in 2016.
The Jays are 25-4 and ranked No. 17 nationally. They've now compiled a 466-188 record in Booth's career and they've been ranked in the Top 25 in each of the last 12 seasons. Assistant coach Angie Oxley Behrens has played a critical role while on staff during this entire run, too. Next year, after months of training sessions and recruiting trips, they hope to be positioned for more.
What's especially remarkable for the Jays is that they've maintained this level of elite consistency in an increasingly competitive sport. They don't really resemble most of their nationally ranked peers. Most top programs either have big budgets or long, storied histories, or both. But that's just fine with Booth.
"It's definitely never a 'we're better.' But we're different," Booth said. "We sell ourselves as one of the few top 20 programs in the country at a private, high-academic institution, with smaller class sizes, with a mission built on Jesuit values. If that's something you're looking for, we're a great fit."
As a result, the student-athletes who have joined the Jays over the years tend to carry similar traits. They want to work hard, and they strive for excellence in the classroom and in the gym.
They're easy to root for, according to Booth.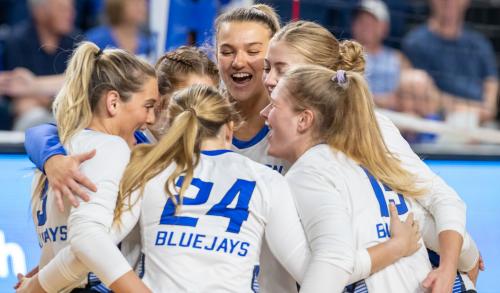 "A lot of our donors and fans want to have great athletic programs, but they also want to support great people," Booth said. "That's been an easy fit for a lot of our donor base to say, 'I love the success that this program's having, but I also love that these are women who care about their academics, who are taking a rigorous class load and plan to make a positive impact in their professional careers after they graduate.'"
Booth can detail the success stories of volleyball alumni just as well as she can recite tales of their on-court achievements in college.
Ultimately, that is Booth's reward here. She gets to watch young women grow through a life-changing four years at Creighton. Volleyball isn't everything. There's a balance. But you set high standards in all aspects of your life.
That way, when it's time to compete, Booth and her team don't hold back.
Which is why Booth wouldn't let any detail slip by during that mid-November practice session. She'd see a miscue and hustle over to the player for correction, or guidance, or encouragement.
This is where you position your hands when rising for a block attempt. This is how to shift your weight to leap more effectively at the net. This is where you should be positioned to best defend an attack.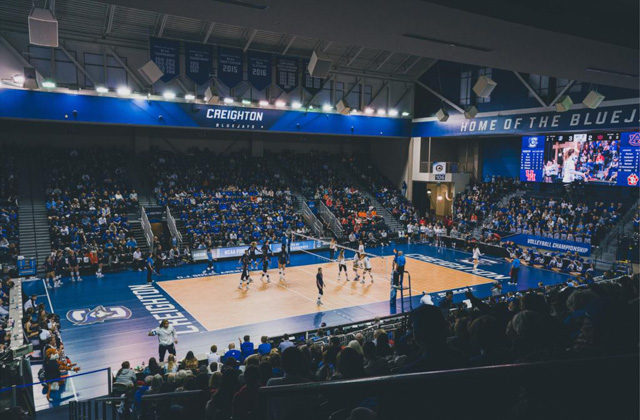 Diligence. Determination. Desire. Creighton's ingredients for success really haven't changed much over the past 20-plus years.
The Jays do have their own arena now, though — the D.J. Sokol Arena in the Wayne and Eileen Ryan Athletic Center — and that was a game-changer when it opened in 2009, Booth said. They do have a welcoming space for student-athletes to study, a state-of-the-art weight room and the "The Ruth" practice facility. Support from donors and alumni has helped immensely over two decades, according to Booth.
Yet Booth and the Jays aren't satisfied. There's more to accomplish.
"Consistency is sometimes the hardest thing, and that's the challenge," Booth said. "So how do we continue to be a top 20 program every year as we reload? How do we keep getting better?"
The foundation is in place. Creighton just has to keep building.