Featured Testimonial About Creighton University
To know that what I've done and am doing has value, and that faculty and donors see value in me - means the world.
Ben Thompson, DPT'21
Scholarship recipient
By Nichole Jelinek
Katherine Sandquist
Jane A. Ghiglieri Memorial Scholarship recipient
Katherine Sandquist has always loved school. It was her passion for learning and a calling into pharmacy that compelled the third-year pharmacy student to apply for the Jane A. Ghiglieri Memorial Scholarship.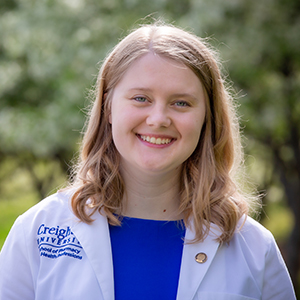 The scholarship was established in 1978 by the late Bernard Ghiglieri Jr., to honor the memory of his daughter Jane, who died soon after her graduation in 1977. Sandquist is the 42nd recipient.
"It is an honor to carry Jane's legacy. I hope I live up to everything she embodied," Sandquist said.
In 2018, Sandquist transitioned from the College of Arts and Sciences into the School of Pharmacy and Health Professions. Although she never saw herself as a leader, at the encouragement of faculty, Sandquist sought out leadership opportunities at Creighton.
"Their support led me into the experiences that have turned out to be some of the most influential aspects of my education. I've learned a lot about myself and what I'm capable of, of how I can really help people."
Sandquist is the president of Creighton's chapter of the American Pharmacists Association for the Academy of Student Pharmacists and an inductee of both the Rho Chi Society and Alpha Sigma Nu. It is because of scholarship support that Sandquist says she can fully engage in every opportunity.
"It has all shaped me into the best version of myself. The gift of scholarship truly symbolizes Creighton's sense of community, because I can feel the support of every graduate who has preceded me."
Ben Thompson, DPT'21
Judith R. Gale Master Clinician Scholarship recipient
During his final year in the Doctor of Physical Therapy program, Ben Thompson, DPT'21, recognized a mental shift.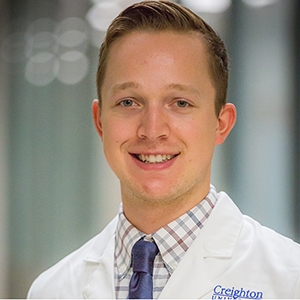 "I had learned to trust myself," Thompson said. "I pushed myself to be involved and worked hard, but I also found balance."
In the spring of 2020, Thompson received the Judith R. Gale Master Clinician Scholarship, awarded to a third-year physical therapy student who demonstrates outstanding promise to develop as a master clinician.
"To know that what I've done and am doing has value, and that faculty and donors see value in me - means the world," Thompson said.
The scholarship honors Judy Gale, PT, DPT'02, OCS, MPH, who retired after a distinguished career at Creighton as a teacher and clinician.
"Dr. Gale was a great," Thompson said. "I think she made a positive impact on all students. I'm extremely grateful for the gift and that others see me as a deserving."
Thompson will begin his career as a physical therapist in California, where he will take with him high standards for patient care.
"I enjoy the time I have with patients and appreciate the relationships I must build," Thompson said. "Creighton helped put me on this path, and I look forward to applying the professional values I've learned."
Maleena Cregg, OTD'21
Stones Pediatric Therapy Scholarship recipient
Inspired by her responsibilities while growing up in a multi-generational household, since a young age Maleena Cregg, OTD'21, has been dedicated to improving the health and lives of others.
During her undergraduate years while working in a preschool, Cregg saw similarities in how the visiting occupational therapist cared for children and in how she cared for her great-grandma.
"I was amazed by how the children were engaged through the work of the OT in the classroom," she said. "I didn't realize then, that living with my parents, grandparents, and my great-grandma would help lead me toward my career."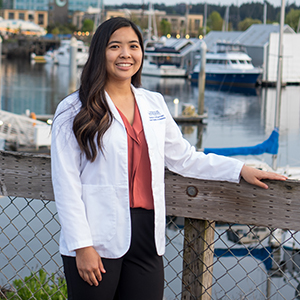 Cregg graduated in May with her Doctorate of Occupational Therapy. In her second year of the program, Cregg received the Stones Pediatric Therapy Scholarship that recognizes a student who exemplifies academic achievement, leadership involvement and who has an interest in pediatrics. She says her dream job is to work in a neuro-pediatric setting.
"It means a lot that there are clinicians ahead of me who are invested in students, and who invested in me. Because of their gift, I could focus on my classes and clinicals and for that, I am grateful."
At Creighton, Cregg was the treasurer of Jays for Pediatrics, president of the Neurological Rehabilitation Organization, and a mentor through the Health Careers Opportunity Program. She also created a new position within the Creighton University Student OT Association (CUSOTA) to support a more diverse and inclusive program.
"I have grown through every opportunity at Creighton. With the leadership skills I have developed and my personal background, I want to use my skills and knowledge to help mentor young people of color in this fantastic profession."