Featured Testimonial About Creighton University
The tradition of value-centered teaching means a lot to me. In my opinion, the practice begins with faculty and staff.

Alekha Dash, PhD
Professor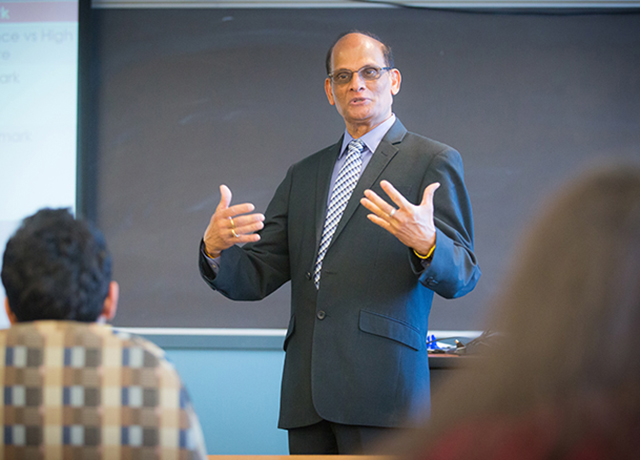 Alekha Dash, PhD, always knew he would one day teach. Through education, he believed he could make a difference. Dr. Dash says he has never taken his own education for granted. His father wasn't highly educated, and his mother could neither read nor write. A native of India, Dr. Dash excelled in school and moved to the United States in the early 1980s to continue his professional studies.
In 1990, Dr. Dash joined the faculty at the School of Pharmacy and Health Professions. He says he is honored to be a part of a community and culture that seeks to produce graduates with the wisdom, judgment and faith to work for a more just society.
"The tradition of value-centered teaching means a lot to me," says Dr. Dash. "In my opinion, the practice begins with faculty and staff."
Dr. Dash feels a sense of responsibility to guide and support students. During his own academic journey, he struggled to find a mentor or advocate. For this reason, he says students are one of the most motivating factors for his giving.
Recognizing a need for students, Dr. Dash established the Flurence and Jagannath Dash Endowed Scholarship, in memory of his parents. He hopes that this scholarship will assist pharmacy students in pursuit of their degree.
"You think about the things in life that plant a seed to feed a need," says Dr. Dash. "Every year is a new beginning, with new students, new inspirations. This drives me to be engaged and help students achieve their goals in life."
His passion for service is deeply rooted in his faith. Through mentorship and scholarship, Dr. Dash feels he can make a significant impact at Creighton and on society.
"Hindu scriptures have taught me that to serve others, one needs three things. In Sanskrit those things are called: Taan, Maan and Dhan."
According to Dr. Dash, the closest English translation of the items is, "physical, emotional/mental and financial." He believes, however, that all three attributes are not necessary to care for others.
"The Creator has given all of us at least one of these attributes, and this means each of us has the capability to serve. I am not a rich person, but I have a rich heart. This lesson is very important to me."
In return for his gift, Dr. Dash says he asks only that students reflect on how they, too, can give back.
"There are no strings attached to my giving," says Dr. Dash. "Students are not only the future of Creighton, but of the world. If they become good citizens and serve others with honesty, integrity and compassion, I believe this is success."
FACULTY & STAFF
Creighton faculty and staff regularly exhibit their loyalty to the University through wholehearted engagement as teachers, mentors, role models and donors. They interact with our talented students on a daily basis as key facilitators of their Jesuit education.
737 faculty and staff made a gift in FY19.
More than 170 campus areas were supported by faculty and staff donors in FY19.
Top 3 areas impacted by donor generosity: academic programs, student scholarships and University support.