Featured Testimonial About Creighton University
The gift speaks to Nelly's fondness of growing up in Omaha and the exceptional education she got at Creighton. She never forgot the opportunities she got at pharmacy school.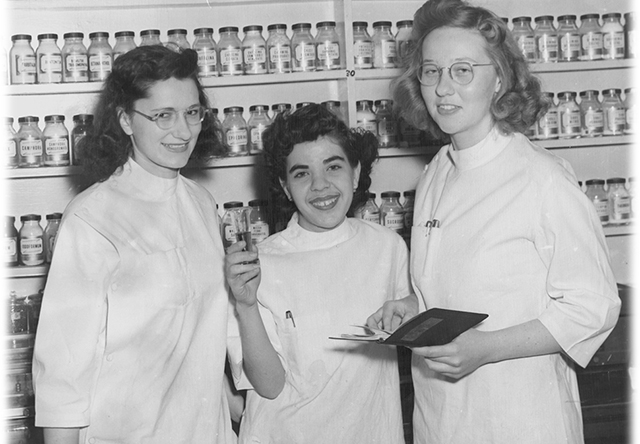 The success of Nelly Nigro's life is best measured not in money nor influence but mileage.
Over her 92 years, the Omaha native traveled the world many times over, making it to all seven continents and scores of countries.
Nigro trekked across Soviet Russia; became a lifelong Bible scholar after a trip to the Holy Land; researched log houses in Finland; studied honey possums in Australia; and, in San Miguel Allende, Mexico, hunted for dinosaur bones.
But in all her travails and all her experiences, this restless and fiercely independent woman never cut the tether to the place she called home — Omaha. And she never forgot about Creighton.
Before she died in the summer of 2017, Nigro, BSPHA'45, bequeathed an estate gift of more than $1 million to Creighton's School of Pharmacy and Health Professions.
The gift establishes a research fund to help patients get the most benefit from their medications. Research was always close to Nigro's heart. She spent her final working years in hospital pharmacy practice, researching the impact of what she called, "social support interventions on patient health."
The Nigro fund's research will be faculty-driven but will also offer many great opportunities for students, said Michael S. Monaghan, PharmD, chair of the Department of Pharmacy Practice.
"Nelly had a passion for research throughout her career," said Joe Nigro, Nelly's nephew and estate executor. "But the gift also speaks to her fondness of growing up in Omaha and the exceptional education she got at Creighton. She never forgot the opportunities she got at pharmacy school."
Creighton's pharmacy school has changed a bit in the 74 years since Nigro graduated.
Today, the pharmacy school has more than 1,000 students enrolled. In 1944 — Nigro's second year in her three-year accelerated program — the war had cut down enrollment to just 35 students.
To boost the pharmacy school's numbers, a group of local people and businesses each offered a $200 scholarship. Those scholarships went a long way at a time when tuition was only $106 a semester.
Nigro was one of just five students (three of them women) to graduate from the pharmacy school in 1945. Before then, she earned the Creighton pharmaceutical society's award for being the student with the highest scholastic rating. She was the first woman to do so.
Nigro entered the profession at a time when there were very few female pharmacists. As with everything in her life, she charged straight ahead and never let up.
After graduation, she bounced around hospitals in Omaha and Lincoln, then Cleveland and Long Beach and, eventually, LA, where she helped open the UCLA Medical Center in 1955. She remained with UCLA for the better part of the next 40 years — though she rarely stayed still.
Nigro "retired" in the '80s, but her restlessness got the better of her. She went back to school, studying health education and earning her master's in public health from UCLA, nearly 50 years after she got her pharmacy degree at Creighton.
Even after her actual retirement, Nigro kept going going going. To her final day, she was a seeker of knowledge and truth, her nephew said.
"She always remained a part of the world, even when she could no longer travel," Joe said.
Even with all the good she did for her profession, community and faith — she was very active in her LA church, St. Paul the Apostle, which counts Mark Wahlberg as a member — it was unquestionably travel that defined her.
From an early age, she felt compelled to go out into the world and explore as many corners of it as time, money and circumstance could afford.
Where did this drive come from? Perhaps it had something to do with her family story.
Nigro was the daughter of Sicilian immigrants. Like many of Omaha's early Italian immigrants, the Nigros hailed from the town of Carlentini.
"If you walk up and down the streets of Carlentini, Sicily, and mention Omaha," said Nelly's nephew Joe, "everybody will tell you they have family there. Caniglia, Mancuso, Carnazzo, Randazzo, Pattavina, Battiato — all Carlentini names. When I was a kid, everybody in Omaha thought my name was so weird. But 'Nigro' is the most common name in the Carlentini cemetery."
The Nigro name barely made it to Omaha at all.
Nelly's father, Rosario Nigro, fulfilled a mandatory year of military service in 1913, just a year before WWI broke out. Any later, and he might not have made the trip.
On some level perhaps, Nelly Nigro realized she owed her very existence (and that of her family) to well-timed international travel.
Nigro's travel compulsions also stemmed from her love of people.
In a 1970 Christmas letter to her friends and family, she recounted her experiences and observations from her travels to Russia. She learned a lot on that trip and was intent on sharing it with unsparing detail. The letter was six pages long.
She made an inventory of everything she witnessed — from the kinds of planes she rode to the kinds of foods she ate to the varieties of fashion Russian women wore. Of the Russian people, she wrote: "I found them to be most endearing, quite hospitable and very human — full of warmth, compassion and awareness."
As health and age continued to limit her travel options, Nigro chose to more thoroughly explore her own backyard, the Westwood area around UCLA's campus. It became her whole world.
In one of the last years of Nigro's life, her nephew Joe came for a visit. Joe's a movie buff, and he'd mentioned off-handedly that there was a tiny cemetery nearby Nelly's home that served as the final resting place for such stars as Marilyn Monroe, Dean Martin, Jack Lemmon, Walter Matthau and many more.
Nelly got up and started walking.
(Walking was her preferred means of travel, as she never learned how to drive. She'd come back from vacations with holes in her shoes.)
"Let's go," she told him. Joe followed.
When Joe thinks of his aunt, he remembers this image — a 4-foot-9 woman well into her 90s wearing a giant straw hat and walking with a clear sense of purpose (and with her walker) across a parking lot. Eager to reach another destination, to learn something new, to put a little more distance behind her while there was still time.

Nelly Nigro was, said her friend and fellow pharmacist Kenn Horowitz, "soft spoken, but her words, deeds and actions spoke loudly. She devoted her life in service to others. She was an avid learner and taught me the value of keeping up with the ever-changing world of pharmacy, the importance of being a pharmacist, and the need to be a member of professional organizations."

For more information or to make a gift to the School of Pharmacy and Health Professions, contact Cody Fuchtman, the school's Senior Director of Development, at CodyFuchtman@creighton.edu or 402.280.2299.