Featured Testimonial About Creighton University
In 1983, Creighton graduate Paul Bacino, DDS'81, and his wife, Jan, moved to Bennington, Nebraska, and opened a family dental practice. Guided by their Ignatian-inspired values, the Bacinos have established deep roots in their community through a quiet, but engaged life.
From offering Bennington School kindergartners field trips through Paul's practice, to providing scholarship support to first-year dental students at Creighton University, their dedication to excellence, service and philanthropy profoundly impacts lives in cities big and small.
"I want to leave my office at night knowing that I had the opportunity to provide my patients with the best quality care. I listen to each patient's needs. I treat them as I would want to be treated, as I would want anyone to treat my own family."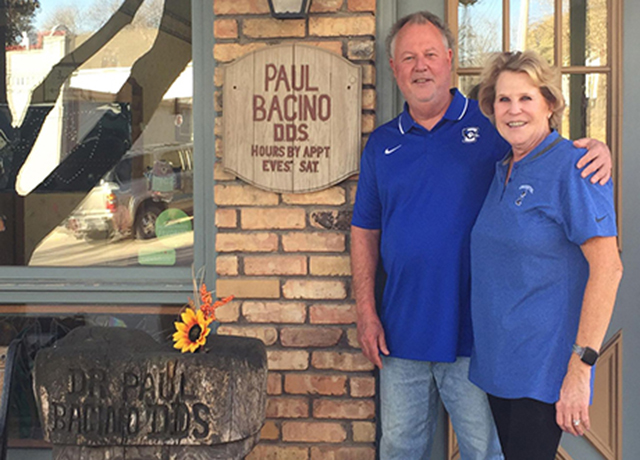 To the Bacinos, the Bennington community is family. With the exception of 2020, due to Covid-19, for almost two decades Bacino and his staff have provided free dental screenings to Bennington grade school and middle school children — more than 2,500 screenings annually – and provided them with free toothbrushes. In the early years of his practice, Bacino operated a mobile service for making house calls to patients in need of dentures and denture repairs.
Bacino himself has served as president of the Junior Chamber of Commerce, raised funds for Bennington's playground equipment and the Bennington Legion Memorial, and been involved with local soccer as both a coach and an organizer of youth soccer programs. For his volunteerism, Bacino was named the 2019 Volunteer of the Year by the Bennington Public Schools. He says that the recognition was a surprise and a real honor.
"I'm here for my community," Bacino said. "It was the same while I was growing up. With my family, with my parents, I remember delivering groceries to seniors in our local neighborhood."
The values instilled in him by his parents aligned with the Jesuit values he found at Creighton University. After completing two years at a junior college in Iowa, Bacino began exploring his next steps to pursue his life-long interest in science.
Bacino was drawn to the Creighton School of Dentistry and he credits the late Dr. Theodore Urban, Associate Dean in the School of Dentistry, with helping him through the application and acceptance process.
"He took me under his wing," Bacino said. "I wanted a Jesuit school close to home, and I liked the high standards of all of the programs at Creighton."
Today, the Bacinos share a vision with the University to maintain this high-quality education. In 2013, they established the Dr. Paul and Jan Bacino Scholarship. Their gifts to the School of Dentistry and to scholarships help ensure that the same high standards remain accessible to current and future students.
Robert Marx, DDS'19, was a recipient of the Bacinos' scholarship and is now in private practice with his family in Sioux Falls, South Dakota. Shortly before he graduated, Marx had the opportunity to meet Jan and Paul.
"Dr. Bacino shared stories from when he was in dental school that I could relate to. It was reassuring to hear that a very well-established and appreciated dentist went through some of the same struggles as my classmates and I did.
"My time at Creighton showed me that there are alumni who are willing to offer their time and gifts to help the next generation fulfill their dreams. For that, I am thankful."
The newest recipient of the Bacino gift, D1 student Emily Albertsen, plans to one day practice in nearby Council Bluffs, Iowa.
"My goal in dentistry is to stay local and help and treat the community where I grew up," Albertsen said. "Cura personalis resonates with me the most, and I strive to embody this Jesuit value in my education and in my future as a health care professional. I am extremely grateful to the Bacinos for their gift and the ability to continue my education at Creighton University School of Dentistry."
Of their gifts, the Bacinos set no expectations for students.
"I hope they will achieve whatever goals they have," Bacino said. "The University has made me feel valued in helping develop Creighton students and in the development of Creighton's education. I am proud to say that I graduated from Creighton."