Featured Testimonial About Creighton University
Creighton is such an essential part of who I became. It was important to give back in this way.
When the call came, Phil, MD, BS'00, and Peggy Cheng Jones, BS'00, MD'04, elected to donate their entire season ticket and Jaybacker payment balance back to Creighton Athletics. They say they didn't think twice about helping Creighton Athletics through an unparalleled challenge.
"Creighton is such an essential part of who I became. It was important to give back in this way," Peggy said. "I hope current students feel the same level of care and support that I did."
Phil and Peggy met at Creighton and both received financial aid. This aid provided a sense of community and inspiration.
"I always knew we would give back," Peggy said. "It's almost guaranteed in a community like Creighton's that giving is something that comes full circle."
Peggy made her first gift to Creighton in 2003. After the rigors of medical school, Creighton basketball offered the Joneses a fun way to reengage with the University—their six seats were a space where Peggy and Phil could step away from their busy lives with their children for a few hours.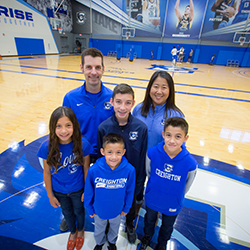 "We are proud to be Bluejays," Phil said. "On the court there is such a level of professionalism and integrity at every game. But what makes me most proud is what happens off the court, that level of character and discipline that the students take out into the world."
For the last decade, Peggy and Phil have supported University causes most important to them. In addition to Bluejays Persevere, they have also recently entrusted Creighton with the gift of an endowed athletics scholarship in support of student-athletes. They say their gifts set the right example for their family.
"The University turns our gifts into something bigger. We look forward to meeting and getting to know the scholarship recipient and their family and to letting them know how important our Creighton experience was to us," Phil said.
BLUEJAY FANS ARE CRUCIAL CHAMPIONS of Creighton Athletics. This year, nearly 2,900 gifts were made in support of Bluejays Persevere, Creighton Athletics' fiscal response to the financial impact of the COVID-19 pandemic. Our loyal fans and supporters who participated in Bluejays Persevere allowed us to address this significant financial shortfall and sustain the standard of excellence Bluejay fans have come to expect in the classroom and during competition.
"We can't thank our fans and supporters enough for all they do for us. I have been afforded so many amazing opportunities at Creighton because of people like you, and I think I can speak for all student-athletes when I say that a simple 'thank you' could never be enough." — MARCUS ZEGAROWSKI, HOCH FAMILY POINT GUARD