Featured Testimonial About Creighton University
Although they live 400 miles away from Creighton's campus, the connection that Kyle and Megan McCamy have with Bluejay Athletics is strong. They are self-described die-hard Bluejay fans.
When the Bluejays Persevere fund from Creighton Athletics came out, the Fargo, North Dakota, residents didn't hesitate to donate their Jaybacker and season ticket payments back to Creighton Athletics. Four months later, the McCamys continued to support the initiative on Giving Day.
"Even though we didn't attend Creighton, it wasn't a difficult decision to support the University in this way," Kyle said. "We like the way Bluejay Athletics carries itself, and we're really proud to be a part of it. It seems like we're sort of returning the favor."
Kyle and Megan were introduced to Creighton when the University moved to the BIG EAST Conference in 2013. As former basketball players, they watch games through players' eyes.
"We were drawn into the level of the playing from the beginning," Megan said. "The high-octane environment, filled with fans cheering at the top of their lungs, it was all such an awesome experience for us."
For the first few years, the McCamys followed the Bluejays and then in 2019, they reached out to Creighton Athletics to inquire about season tickets.
"And it blossomed from there," Kyle said. "On game days, we feel like we belong to the community. It's turned into a great friendship."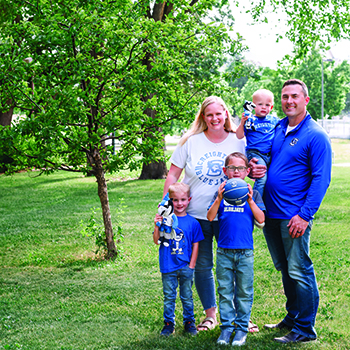 In Fargo, Kyle wears his Creighton gear to work. The McCamys' three young boys know who Billy Bluejay is. And Megan has attended nursing continuing education courses on Creighton's campus.
Kyle's and Megan's dedication to the Bluejays and their philanthropic support of Athletics help the program build the next generation of champions and maintain a competitive edge against BIG EAST rivals.
"Creighton Athletics is our priority right now. I think about the students and anything we can do to support them seems worthwhile. If I had a second go-around at college, I think maybe I'd choose Creighton."
Bluejay fans are crucial champions of Creighton Athletics. This year, nearly 2,900 gifts were made in support of Bluejays Persevere, Creighton Athletics' fiscal response to the financial impact of the COVID-19 pandemic. Our loyal fans and supporters who participated in Bluejays Persevere allowed us to address this significant financial shortfall and sustain the standard of excellence Bluejay fans have come to expect in the classroom and during competition.
"We can't thank our fans and supporters enough for all they do for us. I have been afforded so many amazing opportunities at Creighton because of people like you, and I think I can speak for all student-athletes when I say that a simple 'thank you' could never be enough."— MARCUS ZEGAROWSKI, HOCH FAMILY POINT GUARD