Featured Testimonial About Creighton University
None of this would be happening without my scholarship. Donors affect someone like me for the entire course of our life, that's a huge impact.
Broc Evitch
Current Creighton Student
The creative and illustrative talents of his father and grandfather have inspired College of Arts and Sciences sophomore Broc Evitch for as long as he can remember. Now, through the gift of scholarships, Evitch is following in their footsteps to pursue his dream of using art to help others.

"Creighton is something that I wanted for a long time, but I also knew money was a constraint," Evtich said. "I'm a calm guy, but when I learned about my scholarship, I broke down. The realization that I was coming to Creighton was pretty crazy."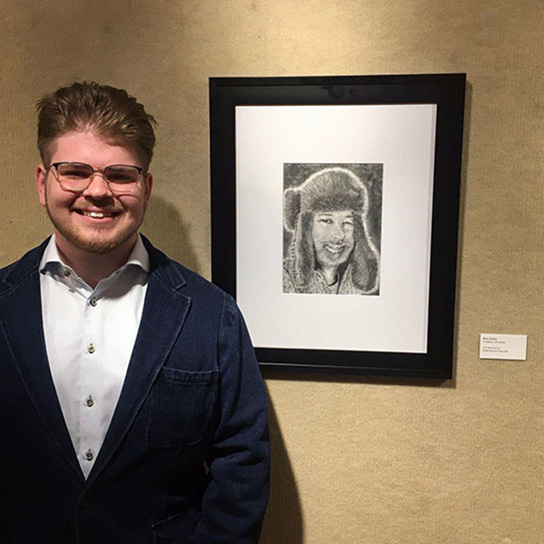 His grandfather, Frank, is a retired forensic artist who today channels his creativity into woodworking. Evitch describes his father, Chris, as a talented illustrator and mentor. To foster his creativity, Evitch's mom, Mary, started enrolling him in art classes when he was three years old.

"My family has always set an example for me through their hard work and have encouraged me to never give up. They still can't believe I'm at Creighton!" he said. "Neither my parents, nor my grandpa, were able to go to college. My grandpa is fascinated with me being here. I'm doing this for me, and for them."

The pre-med studio art major is combining his interests in art and science to become a medical illustrator. Medical illustrators are visual storytellers who impact healthcare through art.

"Sort of a translator," Evitch said. "It's communicating complex scientific ideas into simplified drawings. But really, my passion is simpler. I want to help people. I want to provide them with knowledge that empowers them to make informed decisions about their health."

When donors support scholarships, they help Creighton students, like Evitch, manage costs, make ends meet and gain access to a Jesuit, Catholic education unlike any other.

"Creighton expects a lot, so you need to give a lot. I anticipated and wanted academic rigor. There have been pleasant surprises, like just how many connections there are through Creighton that open doors and how many opportunities I have here."

Evitch's sketches have been on exhibit at the Albrecht-Kemper Museum of Art in St. Joseph, Missouri. As a Scheerer Scholar, he participates in campus and Omaha community activities that use art as a vehicle for empowerment and social justice. He is also an intern in The Kingfisher Institute, a member of The Rugby Football Club and a powerlifter.

"None of this would be happening without my scholarship," Evitch said. "Donors affect someone like me for the entire course of our life, that's a huge impact. It's why I broke down when I received my scholarship. They really do make dreams come true."