Featured Testimonial About Creighton University
I grew to love Creighton through my children. I always tell people, 'Creighton is the best school that I never went to.'
Mary Farrington-Lorch
Creighton parent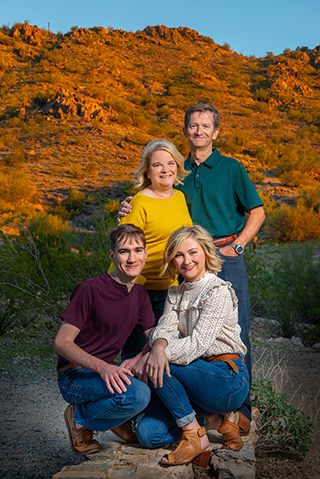 Through shared moments with her children, Alexia Lorch, BFA'16, and Cedric Lorch, BSBA'20, Mary Farrington-Lorch experienced Creighton as a parent and as a partner of the University.
"I grew to love Creighton through my children. I always tell people, 'Creighton is the best school that I never went to.'" Farrington-Lorch graduated from the University of North Dakota. While she was in college her family moved to Arizona, where the Lorch family still resides. In 2012, Alexia became the first in her family to attend Creighton University, Cedric followed four years later.
In gratitude for the opportunities afforded to Alexia and Cedric by Creighton, Farrington-Lorch recently established an annual scholarship in the College of Arts and Sciences and in the Heider College of Business.
The Lorch Family Performing Arts Scholarship and the Lorch Family Finance and Business Information and Analytics Scholarship will help deserving men and women access the same dynamic education that the Lorch children received.
"I want future students to experience Creighton to the fullest, in whatever way that means to them."
According to Farrington-Lorch, Alexia "lived in the Lied Arts Center." During her four years in Fine and Performing Arts, Farrington-Lorch made the trip from Phoenix to Omaha for each of Alexia's 14 musical and theater performances. Alexia also sang the National Anthem at the 2016 commencement ceremony.
While Alexia honed her talents and excelled on stage, Cedric was "all over campus." He "found his people" and wasn't afraid to step out of his comfort zone. Cedric took on leadership roles and even petitioned for Creighton's first sailing club. Although approval was never granted, Farrington-Lorch believes the process offered a valuable learning experience.
The Lorch students each made their Creighton journey their own, but Farrington-Lorch says Alexia and Cedric shared two common similarities along the way: challenging academics and outstanding faculty.
"Alexia has always been a hard worker, but Creighton really gave her a drive. And the professors fostered Cedric's love of learning. Throughout the eight years we had at Creighton, I could see in every person I met the care, interest, and concern they had for each student, as a human being."
From these observations, Farrington-Lorch grew into a dedicated ambassador not only for her children, but also took a vested interest in the education and future of all students. As a member of the Parent and Family Leadership Council, she offered her time and expertise while graciously considering Creighton a top philanthropic priority.
Through her gifts, the Lorch family legacy will help other students develop into whole persons during their academic journeys.
"Creighton helped me to gently 'let go' as a parent, because you quickly learn that you can trust Creighton. To watch Alexia and Cedric grow into adults at Creighton was a wonderful thing."