Featured Testimonial About Creighton University
"The Pogges' gift made me feel that someone cared about my success, because their scholarship granted me a chance to pursue my goals. My time at Creighton School of Law was life-changing, and it means so much to me that they helped give me that opportunity."
Christian Janousek, JD'20
School of Law
A legacy family deeply invested in Creighton University, Jack, JD'78, and Judy Twidwell Pogge, JD'79, have helped establish a blueprint for meaningful student and alumni engagement.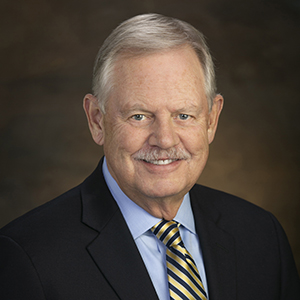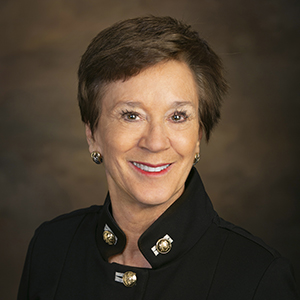 "Jack and Judy are exemplars of Creighton lawyers," Joshua Fershée, JD, dean of the School of Law, said. "They are role models who provide inspiration to our students, and they help show our students a path to success, personally and professionally."
In 2004, the Pogges established The Jack and Judy Twidwell Pogge Scholarship in the School of Law. Their gift supports students like recent graduate, Christian Janousek, JD'20, who says that he always dreamed of attending Creighton.
"The Pogges' gift made me feel that someone cared about my success, because their scholarship granted me a chance to pursue my goals. My time at Creighton School of Law was life-changing, and it means so much to me that they helped give me that opportunity."
Creighton University is part of the Pogge and Twidwell family tradition. Jack followed in his father's footsteps to Creighton. The late Raymond Pogge, JD'50, graduated from Creighton School of Law in 1950. Judy's father, the late Joseph Twidwell, BS'46, MD'48, is a graduate of the School of Medicine. Among many other extended family members, their son, Michael is a 2010 graduate of the Heider College of Business.
"I am grateful to Creighton for the outstanding education our family has received," Judy said. "We want other students to have the same access to Creighton."
From the very beginning of students' Creighton journeys, the Pogges help them to feel at home.
"Judy and Jack have always been so willing to give back and engage in many ways," Diane Glow, BSN'80, assistant vice president of Alumni Relations and Donor Engagement, said. "They are so gracious in their care for the current generation of students. They actually hosted Creighton's first student send-off in Denver."
Glow credits the Pogges for creating the template for a successful student send-off.
"It was always important to Jack and Judy to welcome all first-year Creighton students, no matter their school or college, into their home before they departed for campus. That demonstrates their genuine care for our students."
For their service and dedication, the Pogges were awarded the 2020 Alumni Merit Award from the School of Law at Creighton's Evening of Honors celebration on Feb. 7. Judy says the award came as a surprise.
"To be surrounded by my family and friends--so many people in one place who feel the same way about Creighton--was special."
Judy continues to provide leadership and guidance to her alma mater as a member of the School of Law Alumni Advisory Board.
In Denver, she has dedicated her time as an educational volunteer and has coordinated fundraising and community events for area schools and for the performing arts. She was a facilitator for the International Math Olympiad, and she has tutored students in math, reading and writing. Pogge has also volunteered with numerous other organizations, serving inner-city children and the elderly.
Jack had a successful career providing legal counsel to major corporations and, in 1997, was named president and chief operating officer for CSG Systems International. Pogge retired in 2004 and remains active as a community volunteer and board member with various foundations, including the Gold Crown Foundation, which focuses on youth engagement and community enhancement.