Featured Testimonial About Creighton University
Mary Beth Govier, BSN'87, holds onto childhood memories of volunteering with her parents at fundraisers in Bellevue, Nebraska. From a young age, she has been driven to serve a higher purpose.
"It was important for us to give back to the community," she says. "I feel like philanthropy is embedded in my DNA."
Govier brought with her to the College of Nursing a foundation of values and a vision for her future. At Creighton, she developed a belief in the power of Jesuit education, research and health care, to change lives.
"I chose Creighton because of the quality of education and for its mission. My experience here was the catalyst for me to develop in the way I wanted to. Creighton taught me nursing and so much more."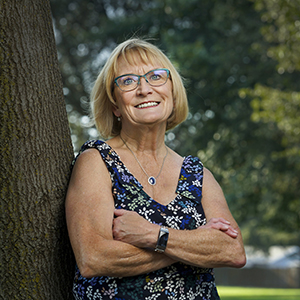 Ever mindful of her impact on others, before she graduated in 1987, Govier made her first gift to the College of Nursing.
"I respect and value my education from Creighton," she says. "It opened many doors for me. As soon as I was able, I gave to Creighton right away. It was kind of like a muscle memory, a feeling in my bones."
After graduating, Govier enlisted in the US Navy. She moved to Oakland, California where she managed the pain clinic and worked in the intensive care unit and the post anesthesia care unit of the Oak Knoll Naval Hospital. She would be promoted to Lieutenant and serve for five years, including during the Gulf War, Operation Desert Storm, when she deployed with the USNS Mercy and cared for military personnel.
"I always tell people, Creighton prepared me to look beyond myself and my field, and the Navy prepared me to do anything."
Today, Govier is the director of medical management for the Sutter Medical Network, within the Sutter Health System in Sacramento, which brings together nearly 5,000 primary care physicians and specialists across northern California, to provide quality, compassionate and affordable care.
In the College of Nursing, Govier is helping provide an excellent education for the next generation of nursing professionals. Her most recent gift to the college is in support the Center for Faculty Innovation, Research and Education (FIRE).
FIRE is an ambitious, collaborative concept designed to ensure that the College of Nursing maintains and enhances its position as a premier provider of nursing education and training.
"The FIRE Fund hit my passion," Govier said. "The initiative resonates with me completely. Research that will change the way we do medicine is really exciting. I was compelled to give because this in an investment in opportunities and innovation that support understanding."
The Mary Beth Gloeb Govier FIRE Innovation Fund will provide annual support for different research topics over five years.
Her first gift was awarded in January 2021 to an interdisciplinary team of nurses led by Misty Schwartz, PhD, RN, BSN'92. The joint team is composed of a nurse, advanced practice pediatric nurse practitioner, dietitian and neonatologist from Creighton University and the University of Nebraska Medical Center and community partners whose studies focus on the intricacies of caring for infants born before full term.
The long-term goal of their work is to use these findings to inform both parents and providers about ways to prevent childhood obesity. Schwartz calls the Gloeb Govier FIRE Fund invaluable.
"Without gifts such as this, we would be so limited in the type and amount of research we do. We are grateful," she says. "Discovering ways to be creative and novel while producing the outcomes we set out to establish is extremely important. Nursing education is all about applying the newest and best practices in the clinical setting for the best outcomes for our patients."
From her first gift more than 30 years ago to entrusting the College of Nursing with a gift to FIRE, Govier says today she feels more connected to Creighton as a philanthropic partner.
"This made it all very real for me, that there is an actual project and that there are passionate nurses building a story of research. I hope they know that there is someone who is curious about their ambitions and who shares a vision with them to impact medicine and humanity."